Beam Trolleys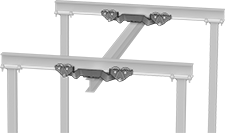 Bottom-Mount
Trolleys Used with Beams to Create a Crane


Bottom Mount
Also known as end trucks, use these trolleys with your own beams to create a crane. For example, use two trolleys to allow a beam to move along two structural beams. Bumpers on the trolley body protect the wheels.
Top/bottom-mount trolleys allow you to run your moving beam along either the top or bottom of your fixed beams.
Bottom-mount trolleys are used on the bottom of fixed beams.
Warning: Never use to lift people or items over people.
For technical drawings and 3-D models, click on a part number.
tons

lbs.

Wd.

Ht.

Wd.

Ht.

Overall


Lg.

Material
Wheel
Material
Fasteners
Included
Features
Pair

1/2

1,000
3

1/2

"-5"
6"-10"
3

1/2

"-4

1/2

"
6"-10"
4'
Steel
Iron
Yes
Bumpers
0000000
000000000
1
2,000
3

1/2

"-5"
6"-12"
3

1/2

"-5"
6"-10"
4'
Steel
Iron
Yes
Bumpers
0000000
00000000
2
4,000
3

1/2

"-5

1/4

"
6"-12"
3

1/2

"-6"
6"-18"
4'2"
Steel
Iron
Yes
Bumpers
0000000
00000000
3
6,000
3

1/2

"-5

1/4

"
6"-12"
3

1/2

"-6"
6"-18"
4'2"
Steel
Iron
Yes
Bumpers
0000000
00000000

Bottom Mount

2
4,000
3"-5

1/4

"
5"-18"
3

1/2

"-5

1/2

"
6"-15"
4'1"
Steel
Iron
Yes
Bumpers
000000
00000000