Weather-Resistant

Inspection Record Tags
Tags are laminated in plastic or aluminum so they hold up outdoors.
Plastic-laminated tags resist moisture and are almost impossible to tear. Write on them using a pencil, pen, or permanent marker. Attach them using the included cable tie.
Write on aluminum-laminated tags with a pen, pencil, or sharp object to create impressions that are visible, even if the ink wears away.
Tags with a notched-loop tag holder attach to items by looping around them—no string, chain, or cable tie required. Their long handle also serves as a clasp.
Preventative Maintenance and Inspection Indicators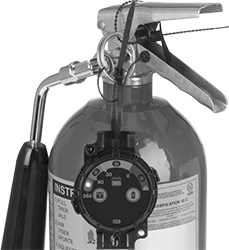 Mount these indicators to your equipment, and their bright LED will catch your attention when it's time for maintenance or inspection. They're commonly used to keep track of maintenance on production lines and HVAC systems, or paired with inspection tags on fire extinguishers and eye wash stations.
When first set, these indicators flash a dark green and then a light green color every two minutes. As a scheduled inspection approaches, they flash a yellow light every 10 seconds. And when an inspection is past due, they blink red every two seconds. Reset indicators to start the countdown again. They meet IP65, so they seal out dust and low-pressure washdowns.
Timing
Cycle
Resettable

Dia.

Ht.

Thick.

Batteries
Included
Mounting
Fasteners Included
Environmental
Rating
Each

Screw

On,

Hang

On,

Tie On

7 Day
Yes
2

1/2

"
3

5/8

"

7/8

"
Yes
Yes
IP65

000000
000000
30 Day
Yes
2

1/2

"
3

5/8

"

7/8

"
Yes
Yes
IP65

000000
00000
90 Day
Yes
2

1/2

"
3

5/8

"

7/8

"
Yes
Yes
IP65

000000
00000
180 Day
Yes
2

1/2

"
3

5/8

"

7/8

"
Yes
Yes
IP65

000000
00000
365 Day
Yes
2

1/2

"
3

5/8

"

7/8

"
Yes
Yes
IP65

000000
00000