Snow Shovels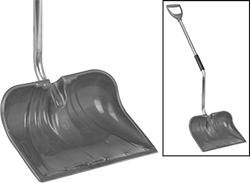 B
Style B has an angled handle to reduce back strain.
Style

O'all




Lg.

Style
Material

Lg.

Wd.

Ht.

Color
Features
Each

Plastic Blade

B
54"
D
Aluminum
42"
18"
14"
Gray
Steel Wear Strip
0000000
000000
Food Industry Shovels

B
Scoop and lift materials in your food-processing facility. Designed for use in a sanitary environment, these shovels are easy to clean and won't corrode from frequent washdowns with harsh cleaners.
Plastic shovels are much lighter than stainless steel shovels, which reduces fatigue during extended use. Unlike stainless steel, they won't scratch surfaces. The single-piece construction has no seams where bacteria can grow. These shovels come in a variety of colors, which you can use to color-code specific lines or areas in your plant as part of a Good Manufacturing Practices (GMP) program. They're also FDA compliant for direct contact with food. The handle on Style B shovels is reinforced with aluminum for added strength and angled to reduce back strain while lifting.