Conductive Liquid Gallium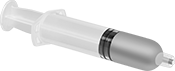 Often used as a safe alternative to mercury in thermometers, thermostats, and switches, these gallium alloys are also good for transferring heat and electricity in soft electronics that must bend and flex. With a low melting point, they're a liquid at room temperature. These alloys wet (stick to) both metallic and nonmetallic surfaces, and can even be used as a high-temperature lubricant for bearings. They will, however, dissolve aluminum at room temperatures and many other metals at higher temperatures. They're also known as Galinstan.
Gallium alloys with 66.5% gallium have a lower melting temperature than those with 75.5% gallium. They are not, however, as good for transferring heat.
Gallium alloys with 75.5% gallium are better than those with 66.5% gallium for transferring heat. They also have a higher melting temperature.
Gallium
Indium
Tin

Size,




oz.

Type
Melting


Temperature,




°F

Maximum


Temperature,




°F

For
Use
On
Each
66.5%
20.5%
13%
0.1
Syringe
50°
930°
Glass, Nickel Alloys, Quartz, Stainless Steel, Steel
0000000
0000000
75.5%
24.5%
__
0.1
Syringe
60°
930°
Glass, Nickel Alloys, Quartz, Stainless Steel, Steel
0000000
000000