Collars for
Wall-Mount

Exhaust Fans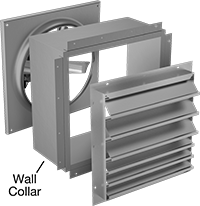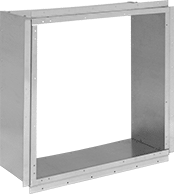 Collar
Connect your wall-mount exhaust fan to a louver. One side of the collar fits around your exhaust fan and the other includes a flange for mounting a louver. Overall height and width include the mounting flange.
Note: To be compatible, the collar must be larger than the overall fan dimensions.
For technical drawings and 3-D models, click on a part number.
For Louvers
That Fit
Opening

Ht.

Wd.

Ht.

Wd.

Ht.

Wd.

Ht.

Wd.

Dp.

Mounting
Flange


Wd.

Material
Each
16"
16"
12

3/4

"
12

3/4

"
17"
17"
19

1/2

"
19

1/2

"
12"
1

1/4

"
Galvanized Steel
0000000
0000000
16

1/8

"
16

1/8

"
14"
14"
17

1/4

"
17

1/4

"
19

1/2

"
19

1/2

"
14

1/4

"
1

1/8

"
Galvanized Steel
0000000
000000
20"
20"
14

3/4

"
14

3/4

"
21"
21"
23

1/2

"
23

1/2

"
12"
1

1/4

"
Galvanized Steel
0000000
000000
20

1/8

"
20

1/8

"
18"
18"
21

1/4

"
21

1/4

"
23

1/2

"
23

1/2

"
15

1/4

"
1

1/8

"
Galvanized Steel
0000000
000000
24"
24"
20

3/4

"
20

3/4

"
25"
25"
27

1/2

"
27

1/2

"
12"
1

1/4

"
Galvanized Steel
0000000
000000
24

1/8

"
24

1/8

"
22"
22"
25

1/4

"
25

1/4

"
27

1/2

"
27

1/2

"
17

1/2

"
1

1/8

"
Galvanized Steel
0000000
000000
30"
30"
26

3/4

"
26

3/4

"
31"
31"
33

1/2

"
33

1/2

"
14"
1

1/4

"
Galvanized Steel
0000000
000000
30

1/8

"
30

1/8

"
27"
27"
31

1/4

"
31

1/4

"
33

1/2

"
33

1/2

"
18

5/8

"
1

1/8

"
Galvanized Steel
0000000
000000
36"
36"
32

3/4

"
32

3/4

"
37"
37"
39

1/2

"
39

1/2

"
14

1/2

"
1

1/4

"
Galvanized Steel
0000000
000000
36

1/8

"
36

1/8

"
33"
33"
37

1/4

"
37

1/4

"
39

1/2

"
39

1/2

"
18

5/8

"
1

1/8

"
Galvanized Steel
0000000
000000
42"
42"
38

3/4

"
38

3/4

"
43"
43"
45

1/2

"
45

1/2

"
17"
1

1/4

"
Galvanized Steel
0000000
000000
42

1/8

"
42

1/8

"
39"
39"
43

1/4

"
43

1/4

"
45

1/2

"
45

1/2

"
19

3/8

"
1

1/8

"
Galvanized Steel
0000000
000000
48"
48"
44

3/4

"
44

3/4

"
49"
49"
51

1/2

"
51

1/2

"
19"
1

1/4

"
Galvanized Steel
0000000
000000
54"
54"
50

3/4

"
50

3/4

"
55"
55"
57

1/2

"
57

1/2

"
21"
1

1/4

"
Galvanized Steel
0000000
000000
60"
60"
56

3/4

"
56

3/4

"
61"
61"
63

1/2

"
63

1/2

"
23"
1

1/4

"
Galvanized Steel
0000000
000000
66"
66"
62

3/4

"
62

3/4

"
67"
67"
69

1/2

"
69

1/2

"
25"
1

1/4

"
Galvanized Steel
0000000
000000