Expanding Pliers for Soft Tubing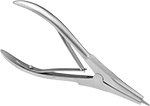 Closed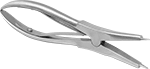 Open
Stretch the end of plastic and rubber tubing to make room for fittings with the same or slightly larger diameter. Insert the tips into tubing and squeeze the handles to open the jaws. Made of stainless steel, these pliers resist corrosion, and they can be sterilized to prevent contaminating tubing lines.
Locking Plier Spreaders

The jaws on these tools apply outward pressure for use as a spreader. Turn the crank handle to adjust the opening size; squeeze the handles to lock the clamp in place. Press the lever to release.
For technical drawings and 3-D models, click on a part number.