Friction-Grip

Stem Casters with Rubber Wheels

Swivel with Expanding Sleeve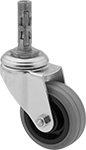 Swivel with Expanding Wedges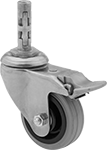 Swivel with Expanding Wedges and Total Lock
Insert these casters into tubing, sockets, and drilled holes. Friction holds them in place.
Tread-on-core wheels have a polypropylene core that is harder than the tread, balancing strength with cushioning.
Soft and firm rubber wheels are shock absorbing and provide good traction on rough surfaces. Stems with expanding sleeve have a rubber sleeve that expands as the nut is turned compressing the sleeve. Stems with expanding wedges have metal wedges that expand outward when the nut is turned for a more secure fit than stems with expanding sleeve. Casters with total lock brake the wheel and lock the swivel with one press of the foot pedal. Sleeve wheel bearings prevent wear to the wheel bore but don't roll as easily as other bearings. Ball wheel bearings are the easiest to roll.
All have double-ball swivel bearings for the smoothest swivel.
Sealed bearings are completely sealed for the best protection against dust and debris.
For technical drawings and 3-D models, click on a part number.
Dia.

Wd.

No.


of
Mount


Ht.

Cap.

per


Caster,




lbs.

Hardness

Dia.

Lg.

Type
Seal
Type
Frame
Material
Each

Swivel

Round Stem with Expanding Sleeve

Nonmarking Gray

Tread-on-Core

Rubber

Wheels—

Soft

3"

15/16

"
1
3

5/8

"
120
Durometer 75A

23/32

"-

27/32

"
2

3/4

"
Sleeve
Open
Zinc-Plated Steel
0000000
000000
3"

15/16

"
1
3

5/8

"
120
Durometer 75A

27/32

"-

15/16

"
2

3/4

"
Sleeve
Open
Zinc-Plated Steel
0000000
00000
3"

15/16

"
1
3

5/8

"
120
Durometer 75A

15/16

"-1

1/32

"
2

3/4

"
Sleeve
Open
Zinc-Plated Steel
0000000
00000
3"

15/16

"
1
3

5/8

"
120
Durometer 75A
1

23/64

"-1

7/16

"
2

3/4

"
Sleeve
Open
Zinc-Plated Steel
0000000
00000
3"

15/16

"
1
3

5/8

"
120
Durometer 75A
1

7/16

"-1

19/32

"
2

3/4

"
Sleeve
Open
Zinc-Plated Steel
0000000
00000
4"

15/16

"
1
4

5/8

"
120
Durometer 75A

23/32

"-

27/32

"
2

3/4

"
Sleeve
Open
Zinc-Plated Steel
0000000
00000
4"

15/16

"
1
4

5/8

"
120
Durometer 75A

27/32

"-

15/16

"
2

3/4

"
Sleeve
Open
Zinc-Plated Steel
0000000
00000
4"

15/16

"
1
4

5/8

"
120
Durometer 75A

15/16

"-1

1/32

"
2

3/4

"
Sleeve
Open
Zinc-Plated Steel
0000000
00000
4"

15/16

"
1
4

5/8

"
120
Durometer 75A
1

23/64

"-1

7/16

"
2

3/4

"
Sleeve
Open
Zinc-Plated Steel
0000000
00000
4"

15/16

"
1
4

5/8

"
120
Durometer 75A
1

7/16

"-1

19/32

"
2

3/4

"
Sleeve
Open
Zinc-Plated Steel
0000000
00000
5"

15/16

"
1
5

5/8

"
120
Durometer 75A

23/32

"-

27/32

"
2

3/4

"
Sleeve
Open
Zinc-Plated Steel
0000000
00000
5"

15/16

"
1
5

5/8

"
120
Durometer 75A

27/32

"-

15/16

"
2

3/4

"
Sleeve
Open
Zinc-Plated Steel
0000000
00000
5"

15/16

"
1
5

5/8

"
120
Durometer 75A

15/16

"-1

1/32

"
2

3/4

"
Sleeve
Open
Zinc-Plated Steel
0000000
00000
5"

15/16

"
1
5

5/8

"
120
Durometer 75A
1

23/64

"-1

7/16

"
2

3/4

"
Sleeve
Open
Zinc-Plated Steel
0000000
00000
5"

15/16

"
1
5

5/8

"
120
Durometer 75A
1

7/16

"-1

19/32

"
2

3/4

"
Sleeve
Open
Zinc-Plated Steel
0000000
00000

Round Stem with Expanding Wedges

Nonmarking Gray

Tread-on-Core

Rubber

Wheels—

Soft

3

1/8

"
1"
1
4

1/4

"
130
Durometer 80A

11/16

"-

3/4

"
2

9/16

"
Ball
Sealed
Zinc-Plated Steel
0000000
00000
3

1/8

"
1"
1
4

1/4

"
130
Durometer 80A

51/64

"-1"
2

9/16

"
Ball
Sealed
Zinc-Plated Steel
0000000
00000
3

1/8

"
1"
1
4

1/4

"
130
Durometer 80A
1"-1

3/16

"
2

9/16

"
Ball
Sealed
Zinc-Plated Steel
0000000
00000
4"
1

1/4

"
1
5

1/4

"
190
Durometer 80A

11/16

"-

3/4

"
2

9/16

"
Ball
Sealed
Zinc-Plated Steel
0000000
00000
4"
1

1/4

"
1
5

1/4

"
190
Durometer 80A

51/64

"-1"
2

9/16

"
Ball
Sealed
Zinc-Plated Steel
0000000
00000
4"
1

1/4

"
1
5

1/4

"
190
Durometer 80A
1"-1

3/16

"
2

9/16

"
Ball
Sealed
Zinc-Plated Steel
0000000
00000
5"
1

1/4

"
1
6

1/4

"
220
Durometer 80A

11/16

"-

3/4

"
2

9/16

"
Ball
Sealed
Zinc-Plated Steel
0000000
00000
5"
1

1/4

"
1
6

1/4

"
220
Durometer 80A

51/64

"-1"
2

9/16

"
Ball
Sealed
Zinc-Plated Steel
0000000
00000
5"
1

1/4

"
1
6

1/4

"
220
Durometer 80A
1"-1

3/16

"
2

9/16

"
Ball
Sealed
Zinc-Plated Steel
0000000
00000

Swivel with Total Lock

Round Stem with Expanding Wedges

Nonmarking Gray

Tread-on-Core

Rubber

Wheels—

Soft

3

1/8

"
1"
1
4

1/4

"
130
Durometer 80A

11/16

"-

3/4

"
2

9/16

"
Ball
Sealed
Zinc-Plated Steel
0000000
00000
3

1/8

"
1"
1
4

1/4

"
130
Durometer 80A

51/64

"-1"
2

9/16

"
Ball
Sealed
Zinc-Plated Steel
0000000
00000
3

1/8

"
1"
1
4

1/4

"
130
Durometer 80A
1"-1

3/16

"
2

9/16

"
Ball
Sealed
Zinc-Plated Steel
0000000
00000
4"
1

1/4

"
1
5

1/4

"
190
Durometer 80A

11/16

"-

3/4

"
2

9/16

"
Ball
Sealed
Zinc-Plated Steel
0000000
00000
4"
1

1/4

"
1
5

1/4

"
190
Durometer 80A

51/64

"-1"
2

9/16

"
Ball
Sealed
Zinc-Plated Steel
0000000
00000
4"
1

1/4

"
1
5

1/4

"
190
Durometer 80A
1"-1

3/16

"
2

9/16

"
Ball
Sealed
Zinc-Plated Steel
0000000
00000
5"
1

1/4

"
1
6

1/4

"
220
Durometer 80A

11/16

"-

3/4

"
2

9/16

"
Ball
Sealed
Zinc-Plated Steel
0000000
00000
5"
1

1/4

"
1
6

1/4

"
220
Durometer 80A

51/64

"-1"
2

9/16

"
Ball
Sealed
Zinc-Plated Steel
0000000
00000
5"
1

1/4

"
1
6

1/4

"
220
Durometer 80A
1"-1

3/16

"
2

9/16

"
Ball
Sealed
Zinc-Plated Steel
0000000
00000