About Industry Designation for Cable Insulation
Hardwire Washdown
Automatic-Wind

Cord Reels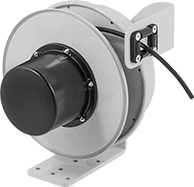 Connect the wires in your power cord to these reels for a permanent and protected connection—the screw terminals are in a gasketed dust- and water-resistant NEMA 4 enclosure. The included extension cord with wire leads resists water and oil. These reels have a direct-drive, lifetime-lubricated spring that provides reliable operation and long life for extension cord retraction. A ratchet holds the cord at any length; a quick pull retracts the cord. Or, flip a switch to disengage the ratchet and use the automatic take-up feature to maintain constant tension on the cord. A roller guide provides smooth winding.
Swivel base (sold separately) permits 345° rotation. Cord stops (sold separately) allow you to control how much cord retracts into the reel.
For technical drawings and 3-D models, click on a part number.
No.

of
Wire
Leads

Lg.,




ft.

Wire


Ga.

Industry
Designation
OD
Housing
Material

Current,


A
Voltage

Lg.

Wd.

Ht.

Features
Specifications
Met
Color
Each
Each

Extension Cord with Wire Leads and Power Connection with Screw Terminals

4
20
12
SOOW

0.69"
Steel
16
600V AC
13

1/2

"
15"
15"
Automatic Take-Up, Mounting Bracket, Ratchet, Roller Guide, Slip Ring
UL Listed, CSA Certified
Yellow
00000000
0000000
0000000
000000
4
30
12
SOOW

0.69"
Steel
16
600V AC
13

1/2

"
15"
15"
Automatic Take-Up, Mounting Bracket, Ratchet, Roller Guide, Slip Ring
UL Listed, CSA Certified
Yellow
00000000
000000
0000000
00000
4
40
12
SOOW

0.69"
Steel
16
600V AC
13

1/2

"
15"
15"
Automatic Take-Up, Mounting Bracket, Ratchet, Roller Guide, Slip Ring
UL Listed, CSA Certified
Yellow
00000000
000000
0000000
00000
4
50
12
SOOW

0.69"
Steel
16
600V AC
13

1/2

"
15"
15"
Automatic Take-Up, Mounting Bracket, Ratchet, Roller Guide, Slip Ring
UL Listed, CSA Certified
Yellow
00000000
00000000
0000000
00000
| | | | |
| --- | --- | --- | --- |
| Swivel Base (6" Lg. × 1" Wd. × 7" Ht.) | 00000000 | Each | 000000 |