Outlet Strips
Provide power to multiple devices with these outlet strips. A circuit breaker prevents damage from current overload and short circuits.
Telephone connections connect to a land line. Surge suppression outlet strips protect against damage from voltage spikes. Surge rating indicates how much energy the outlet strip can absorb before it needs to be replaced; the higher the number, the better the protection.
Fasten mounting clips to a surface, and snap the channel on the back of outlet strips into the clips.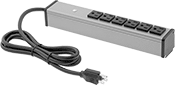 Standard Outlet Orientation


Replacement
Mounting Clips

Total


No.

of
Outlets
NEMA


5-15

Outlet


Ctr.-to-Ctr.

Cord


Lg.,




ft.

Current,


A
Voltage
Features
Material
Protection
Type
Includes
Specifications
Met
Each

Pkg.




Qty.

Pkg.

NEMA

5-15

Socket with NEMA

5-15

Plug

6
6
1

1/4

"
6
15
125V AC
__
Aluminum
Circuit Breaker
Mounting Clips
UL Listed, C-UL Listed

0000000
000000
3
0000000
00000
6
6
1

1/4

"
6
15
125V AC
Lighted Power Switch
Aluminum
Circuit Breaker
Mounting Clips
UL Listed, C-UL Listed

0000000
00000
3
0000000
0000
6
6
1

1/4

"
15
15
125V AC
__
Aluminum
Circuit Breaker
Mounting Clips
UL Listed, C-UL Listed

0000000
00000
3
0000000
0000
6
6
1

1/4

"
15
15
125V AC
Lighted Power Switch
Aluminum
Circuit Breaker
Mounting Clips
UL Listed, C-UL Listed

0000000
00000
3
0000000
0000
Outlet Strips with Telephone Connections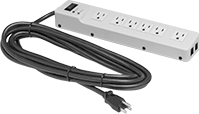 Outlet Strip with Telephone Connections


Total


No.

of
Outlets
Outlet


Ctr.-to-Ctr.




(No.)

Connection
Type

No.


of
Jacks
Cord


Lg.,




ft.

Current,


A
Voltage
Features
Material
Surge
Rating
Protection
Type
Specifications
Met
Each

NEMA

5-15

Socket with NEMA

5-15

Plug

6
1

1/2

" (4)
1

3/4

" (2)
RJ11
2
15
15
125V AC
Lighted Power Switch
Steel
1340J
Circuit Breaker, Surge Suppression
UL Listed

0000000
000000