Outlet Strips
Provide power to multiple devices with these outlet strips. A circuit breaker prevents damage from current overload and short circuits.
Telephone connections connect to a land line. Coaxial connections connect to F-type coaxial cords for video.
90° elbow plugs fit flush against a wall outlet, so they fit behind machinery or in areas where space is tight.
Surge suppression outlet strips protect against damage from voltage spikes. Surge rating indicates how much energy the outlet strip can absorb before it needs to be replaced; the higher the number, the better the protection.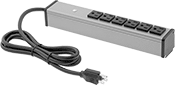 Standard Outlet Orientation


Total


No.

of
Outlets
NEMA


5-15

Outlet


Ctr.-to-Ctr.

Cord


Lg.,




ft.

Current,


A
Voltage
Features
Material
Surge
Rating
Protection
Type
Specifications
Met
Each

NEMA

5-15

Socket with

90°

Elbow NEMA

5-15

Plug

8
8
2

1/4

"
6
15
125V AC
Lighted Power Switch
PVC Plastic
675J
Circuit Breaker, Surge Suppression
UL Listed

0000000
000000
Outlet Strips with Telephone Connections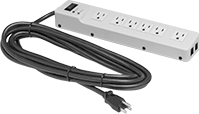 Outlet Strip with Telephone Connections


Total


No.

of
Outlets
Outlet


Ctr.-to-Ctr.




(No.)

Connection
Type

No.


of
Jacks
Cord


Lg.,




ft.

Current,


A
Voltage
Features
Material
Surge
Rating
Protection
Type
Specifications
Met
Each

NEMA

5-15

Socket with

90°

Elbow NEMA

5-15

Plug

8
2

1/4

" (8)
RJ11
2
6
15
125V AC
Lighted Power Switch
PVC Plastic
675J
Circuit Breaker, Surge Suppression
UL Listed

0000000
000000
Outlet Strips with Telephone and Coaxial Connections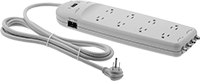 Outlet Strip with Telephone and Coaxial Connections


Total


No.

of
Outlets
Outlet


Ctr.-to-Ctr.




(No.)

Connection
Type

No.


of
Jacks
Connection
Type

No.


of
Jacks
Cord


Lg.,




ft.

Current,


A
Voltage
Features
Material
Surge
Rating
Protection
Type
Specifications
Met
Each

NEMA

5-15

Socket with

90°

Elbow NEMA

5-15

Plug

8
2

1/4

" (8)
RJ11
2
F-Type
4
6
15
125V AC
Lighted Power Switch
PVC Plastic
675J
Circuit Breaker, Surge Suppression
UL Listed

0000000
000000