Robot Teach Pendant Cord Reels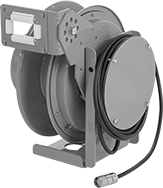 Cord Reel
Keep the cords connecting your robot controller and teach pendant organized and out of the way, so they won't become damaged or cause tripping. These reels have a ratchet to hold cords at the exact length you need. No need to wind cords by hand—a quick pull will engage the automatic wind and retract the cord.
All of these reels include a cord that connects to specific robot controllers, so there's no need for wiring. Choose a reel that matches your manufacturer and model number. Reels with cord have a teach pendant cord already wound inside, so you can plug it right into your teach pendant. To use reels without cord, wind the existing cord from your teach pendant into the reel before plugging it in.
Use the mounting holes to attach these reels to any horizontal surface. Mounting brackets let you attach them to a wall or other vertical surface. Reel stands elevate your reel to the height of your equipment. To spin your reel in any direction, use swivel mounts. Attach them to a flat surface, reel stand, or mounting bracket.