Shielded Ethernet Cords
The shielding on these cords blocks signal interference from nearby equipment and devices. They send data between computers, printers, servers, and switches. For faster data transmission speeds, choose a cord with a higher ethernet cable category. They're backward compatible, so they work in networks that meet the same or a lower category.
Cords with braid and foil shielding have better protection than cords with only foil shielding, which is especially important for higher transmission speeds or longer lengths of cord. However, the added shielding increases cord diameter and reduces flexibility.
For technical drawings and 3-D models, click on a part number.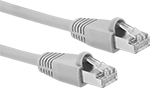 Lg.,




ft.

Transmission
Frequency
Wire
Gauge

Cord
OD
Temperature


Range,

°F

Color
Each

Ethernet Cable Category 5E with Braid and Foil Shielding

150
100 MHz
26

0.24"
0° to 140°
Black
00000000
0000000
Continuous-Flex

Ethernet Cable

Shielded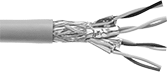 Double Shielded
Use For:

Automation,

Continuous

Motion,

Data,

Interference Shielding
Continuous Flex

Insulation:




Shielded:

Polyurethane Rubber
Double

Shielded:

TPE

Rubber,

except Category 6A is Polyurethane Plastic
Often used in automated applications that require continuous motion such as robotics, this cable sends data between computers, servers, and switches without degrading data transmission. This Ethernet cable is backward compatible so it works in networks that meet the same or a lower category. Bend radius is the point to which the cable will bend without being damaged. It is measured from the center of the bend to the edge of the cable. The smaller the measurement, the tighter the bend.
Shielded cable has a layer of braid that blocks signal interference from nearby equipment and devices.
Double shielded cable has a layer of braid and foil shielding for better protection against signal interference than braid alone. Use it in environments with high signal distortion, such as near transformers, generators, and heavy duty motors.
Flame rated cable meets requirements for preventing the spread of flames based on a timed test. FT1 cable is suspended vertically during testing. FT2 cable is suspended horizontally during testing.
Ethernet
Cable
Category

Transmission
Frequency
Wire


Ga.

No.


of
Wires
Cable
AWG

Temp.




Range,




°F

OD
Bend
Radius
Outer
Insulation
Color
Specifications
Met

Length,




ft.

1-99

100-Up

Shielded Stranded Wire

5E

100 MHz
26

8
26/8

Not Rated
0.3"
3

3/4

"
Purple
UL Recognized Component, C-UL Recognized Component, Flame Rated FT1
000000
00000
00000
7A

1,000 MHz
26

8
26/8

-40° to 155°
0.35"
5

1/4

"
Green
UL Recognized Component, CSA Certified, Flame Rated FT2
150
000000
00000
00000

Double-Shielded

Stranded Wire

5

100 MHz
24

4
24/4

-30° to 155°
0.28"
2.8"
Purple
UL Recognized Component, C-UL Recognized Component, Flame Rated FT1
150
0000000
0000
0000
5E

100 MHz
26

8
26/8

-30° to 155°
0.33"
3.3"
Purple
UL Recognized Component, C-UL Recognized Component, Flame Rated FT1
150
0000000
0000
0000
6

250 MHz
26

8
26/8

-30° to 155°
0.33"
3.3"
Purple
UL Recognized Component, C-UL Recognized Component, Flame Rated FT1
150
0000000
00000
00000
6A

500 MHz
26

8
26/8

-40° to 155°
0.28"
4.2"
Green
UL Recognized Component, C-UL Recognized Component, CSA Certified, Flame Rated FT2
000000
00000
0000