Ethernet Cords with M12 Connectors
The M12 threaded ends on these cords seal out contaminants and resist coming loose from vibration better than the RJ45 ends on traditional Ethernet cords. Use them in tough, rugged environments to send high-speed data between sensors, switches, servers, computers, and PLCs not protected by control panels. These cords can power devices as they send data, as long as devices are Power over Ethernet (PoE) compatible. They are often used within Ethernet/IP, Profinet, and EtherCat systems. Their poles and keyways adhere to standard coding layouts, reducing the chance you'll mismatch connections.
All cords are backward compatible, so they work in networks that meet the same or lower ethernet cable category. For example, a Category 6 cord will work in a Category 5 network, but it will only run at the Category 5 speed.
A- and X-coded cords send data faster than D-coded cords, so they're good for robotics and multi-step programs.
With either TPE or polyurethane insulation, all cords stand up to harsh factory conditions, chemicals, and UV rays. All are also highly flexible, so they're good for jobs with continuous motion, such as robotics. Oil-resistant polyurethane-insulated cords are free of halogen, so they're safer than most plastic as they won't release toxic fumes or corrode metal.
Double-shielded cords have layers of braid and foil that block signal interference from nearby devices, preventing impact to transmission speeds and data.
When mated, all cords are IP67 rated to protect against dust and temporary submersion.
Add caps to protect cords and maintain their IP ratings when not in use.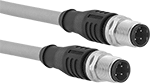 D-Coded
Plug ×
D-Coded
Plug
X-Coded
Plug ×
X-Coded
Plug


Lg.,




ft.

No.


of
Poles
Transmission


Speed,


Mbps
Wire
Gauge

Cord
OD
Specifications
Met
Shielding
Shield
Type

Temp.




Range,




°F

Environmental
Rating
Cord
Insulation
Material
Color
Each

D-Coded—

5E Ethernet Cable Category

32
4
100
22

0.21"
UL Recognized Component
Double Shielded
Braid, Foil
-20° to 190°
IP67

Polyurethane Rubber
Green
0000000
000000

X-Coded—

6A Ethernet Cable Category

32
8
10,000
26

0.26"
UL Recognized Component
Double Shielded
Braid, Foil
-20° to 190°
IP67

Polyurethane Rubber
Green
0000000
000000