About Industry Designation for Cable Insulation
Quick-Connect

Screw-Together

Power Cords
A few turns is all it takes to join these cords, which have thick threads similar to a light bulb, for a secure connection in washdown and high-vibration areas. They detach just as fast for frequent maintenance. IP68 rated when mated, these cords block out dust and water if briefly submersed. They carry higher currents than mini cords, so they're often used to power cameras, machine tools, HVAC equipment, and I/O modules, yet they're compact to save space. Their housing resists UV rays for outdoor use. All have cables that are known as TC-ER, meaning they meet crush and impact requirements for exposed cable in cable carriers.
Connect these cords to mating quick-connect connectors.
Add caps to keep out dust and debris when these cords aren't connected.
For technical drawings and 3-D models, click on a part number.
Plug (External Thread) × Socket (Internal Thread)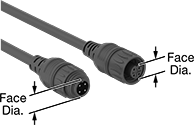 Lg.,




ft.

No.


of
Poles

No.


of
Keyways
Face


Dia.

Current,


A
Voltage
Wire
Gauge

Size

Pitch
OD
Insulation
Material
Industry
Designation

Temp.




Range,




°F

Specifications
Met
Each

IP68 Rated

33
4
1
0.53"
16
400V AC/400V DC
14

Rd 24-8

1/8

"
0.39"
PVC Plastic
TC-ER

-40° to 210°
UL Listed

00000000
0000000
HDMI Video Cords
Send high-definition signals to monitors, TVs, and projectors.
Cords with a built-in repeater extend the signal to maintain digital quality over long transmission distances.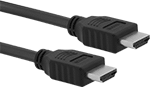 Connect computers, servers, and switches in a fiber-optic network.
Single-mode cords are good for long distances and often used between buildings.
Multimode cords are often used for shorter runs within buildings. OM1 cords support 10 Gigabit Ethernet at lengths up to 33 meters. They are used for Local Area Networks (LAN).
OFNR (optical fiber nonconductive riser) cords prevent the spread of fire from floor to floor within buildings. Use them in vertical spaces, such as shafts, between floors. They cannot be installed in plenum areas. These cords are corrosion resistant. They release heavy black smoke, hydrochloric acid, and other toxic gases when they burn.
Cords with LC connections have push-pull connectors that lock in place with a latch. Their connectors are about half the size of SC and ST connectors, so they're best for devices in tight spaces as well as crowded racks and panels.
Cords with SC connections have push-pull connectors that lock in place with a tab.
Cords with ST connections have twist-lock spring-loaded connectors that secure in place with a bayonet lock.