Ethernet Cords with M12 and RJ45 Connectors
To send high-speed data in tough, rugged environments, these cords have an M12 connector on one end that threads onto switches, sensors, and other devices prone to vibration. The other end has a traditional RJ45 plug that connects to Ethernet equipment, such as computers, IO modules, and programmable logic controllers (PLCs). These cords can also power devices as they send data, so you don't need a separate power cord. But, the device must be Power over Ethernet (PoE) compatible. They're often used with EtherNet/IP, Profinet, and EtherCAT systems. With TPE insulation, they stand up to bending in robotics applications. It also means they resist abrasion and won't pit or crack from chemicals, sunlight, and welding runoff.
Thanks to its threads and IP rating, the M12 end is water and dust tight when mated. Poles and keyways on its face adhere to standard coding layouts, which reduces the chance of mismatching connections.
When choosing an Ethernet cord, make sure you match or exceed your network's ethernet cable category. These cords are backward compatible—for example, a Category 6 cord will work in a Category 5 network, but it'll only run at the Category 5 speed.
A- and X-coded cords send data faster than D-coded cords, so they're best for systems that run multi-step programs, such as robotics.
Double-shielded cords have layers of braid and foil that block signal interference from nearby devices, maintaining their speed and data integrity.
Add caps to protect connectors and maintain their IP rating when not in use.
For technical drawings and 3-D models, click on a part number.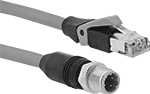 Lg.,




ft.

Number
of
Poles
Transmission


Speed,


Mbps
Wire
Gauge

Cord
OD
Shielding
Shield
Type
Temperature


Range,




°F

Cord
Insulation
Material
Color
Each

D-Coded—

Ethernet Cable

Category 5E

65

1/2

4
100
24

0.26"
Double Shielded
Braid, Foil
-40° to 175°
TPE Rubber
Blue
00000000
0000000

X-Coded—

Ethernet Cable

Category 6A

65

1/2

8
10,000
26

0.29"
Double Shielded
Braid, Foil
-40° to 175°
TPE Rubber
Blue
00000000
000000

Robot Teach Pendant Cords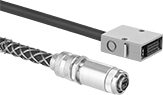 FANUC Cord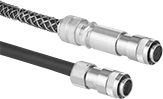 Yaskawa Cord
Replace the cords connecting your robot controller and teach pendant when they become worn, or switch them out for a different length. The connections on these cords plug right into your equipment, so there's no need to modify them before installing. Choose cords that work with your controller, then select the length that fits your application.
Lg.,

ft.

Manufacturer
Equivalent Series
Manufacturer Equivalent Model Number
End
Shape
Color
Each

FANUC Equivalent Cords

For

R30iB,

R30iB Plus Controllers

65

1/2

A660, XGMF
A660-2007-T364, XGMF23746
Straight
Black
00000000
0000000

For RJ2 Controllers

65

1/2

A660
A660-2003-T661
Straight
Black
00000000
000000

For RJ3 Controllers

65

1/2

A660, XGMF
A660-2004-T284, XGMF10990, XGMF11744, XGMF12009, XGMF12572
Straight
Black
00000000
000000
65

1/2

MATE
__
Straight
Black
00000000
000000

For RJ3i Controllers

65

1/2

A660, XGMF
A660-2004-T411, A660-2006-T324, A660-2006-T840, XGMF11944, XGMF12487, XGMF12574, XGMF13366, XGMF13436, XGMF18137, XGMF19238, XGMF21686, XGMF21792
Straight
Black
00000000
000000
65

1/2

MATE
__
Straight
Black
00000000
000000

Yaskawa Equivalent Cords

For Motoman

DX100,

Motoman

DX200,

Motoman FS100 Controllers

65

1/2

Motoman 156798
156798-3
Straight
Black
00000000
000000

For Motoman NX100 Controllers

65

1/2

Motoman 152029
152029-4
Straight
Black
0000000
000000