Outlet Strips
Provide power to multiple devices with these outlet strips. A circuit breaker prevents damage from current overload and short circuits.
Surge suppression outlet strips protect against damage from voltage spikes. Surge rating indicates how much energy the outlet strip can absorb before it needs to be replaced; the higher the number, the better the protection.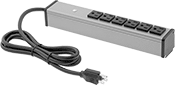 Standard Outlet Orientation


Total


No.

of
Outlets
NEMA


5-15

Outlet


Ctr.-to-Ctr.

Cord


Lg.,




ft.

Current,


A
Voltage
Features
Material
Surge
Rating
Protection
Type
Specifications
Met
Each

NEMA

5-15

Socket with NEMA

5-15

Plug

11
11
6"
15
15
125V AC
Lighted Power Switch
Aluminum
675J
Circuit Breaker, Surge Suppression
UL Listed

0000000
0000000
Cabinet-Mount

Outlet Strips

Install these extra-long strips onto the frame of an electrical cabinet. Screw the included mounting clips to the cabinet and snap the strips into the clips.
No.


of
Outlets
Outlet


Ctr.-to-Ctr.

Cord


Lg.,




ft.

Current,


A
Voltage
Material
Protection
Type
Includes
Specifications
Met
Color
Each

Pkg.




Qty.

Pkg.

NEMA

5-15

Socket with NEMA

5-15

Plug

11
6"
6
15
125V AC
Aluminum
Circuit Breaker
Mounting Clips, Mounting Screws
UL Listed

Gray
00000000
0000000
3
00000000
000000
11
6"
15
15
125V AC
Aluminum
Circuit Breaker
Mounting Clips, Mounting Screws
UL Listed

Gray
00000000
000000
3
00000000
00000

NEMA

5-20

Socket with NEMA

5-20

Plug

11
6"
6
20
125V AC
Aluminum
Circuit Breaker
Mounting Clips, Mounting Screws
UL Listed

Gray
00000000
000000
3
00000000
00000
11
6"
15
20
125V AC
Aluminum
Circuit Breaker
Mounting Clips, Mounting Screws
UL Listed

Gray
00000000
000000
3
00000000
00000