Deburring Scrapers for Tube Edges


Inner Tube Edge

Outer Tube Edge
Place the tool over the end of your tube and twist to deburr.
For technical drawings and 3-D models, click on a part number.
Deburring Scraper Drill Attachments for Pipe and Tube Edges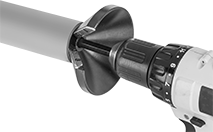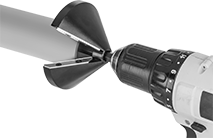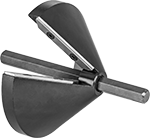 These drill attachments scrape both the inner and outer edges of plastic pipe and tube to finish them for connections. There's a hex shank on each end—flip attachments around in your drill to switch from deburring inside edges to outside edges. Use in drills 14V and up.
Deburring Scraper Drill Attachments


Hex Shank
Size
For Tube
OD
For Pipe
Size
Blade
Material
Blade
Style
Overall


Lg.

Body
Material
For
Use On
Each
Each

For Deburring Inner Pipe

Edges,

Outer Pipe

Edges,

Inner Tube

Edges,

Outer Tube Edges

3/8

"

3/4

"-2

1/2

"

3/8

-2
Carbide
Fixed
4

1/2

"
Steel
Plastic
0000000
000000
0000000
000000