External
Torx-Plus

Socket Sets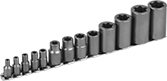 With sizes from EP10 to EP24, these sets have the sockets you need to install and remove a wide range of External Torx-Plus fasteners. Pair them with a square drive tool, such as a socket wrench, to deliver high levels of torque without slipping. Made in the U.S.A., the sockets in these sets are manufactured to tight tolerances and high quality standards. This means you'll get a firm grip, even under the toughest industrial applications.
No,

of
Pieces
Size
Each

1/4",

3/8",

1/2"

Square

Drive—

Steel

13
EP4, EP5, EP6, EP7, EP8, EP10, EP12, EP14, EP16, EP18, EP20, EP22, EP24
0000000
0000000
External Torx Socket Sets


No.

of
Pieces
Includes
Each

1/4"

Square

Drive—

Chrome-Plated

Steel

6
Deep Sockets: E4, E5, E6, E7, E8, E10
0000000
000000
External Torx Impact Socket Sets


These sockets are made to withstand the high torque and force of impact tools.
No.

of
Pieces
Includes
Material
Finish
Each
7

1/4

" Standard Sockets: E6, E7, E8


3/8

" Standard Sockets: E10, E12, E14, E16
Steel
Black
0000000
000000