External
Torx-Plus

Socket Sets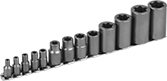 With squared lobes that won't slip at high torque, all of the sockets in these sets are designed to fit on external Torx-Plus fasteners, often found on pickup trucks. They're machined to tight tolerances and made in the U.S, which means they have a firm grip and stand up to tough jobs for a long time. Attach them to ratchet wrenches and other square drive tools.
No,

of
Pieces
Size
Each

1/4",

3/8",

1/2"

Square

Drive—

Steel

13
EP4, EP5, EP6, EP7, EP8, EP10, EP12, EP14, EP16, EP18, EP20, EP22, EP24
0000000
0000000
External Torx Socket Sets


No.

of
Pieces
Includes
Each

1/4"

Square

Drive—

Chrome-Plated

Steel

6
Deep Sockets: E4, E5, E6, E7, E8, E10
0000000
000000
External Torx Impact Socket Sets


These sockets are made to withstand the high torque and force of impact tools.
No.

of
Pieces
Includes
Material
Finish
Each
7

1/4

" Standard Sockets: E6, E7, E8


3/8

" Standard Sockets: E10, E12, E14, E16
Steel
Black Oxide
0000000
000000