Extra-Heavy

Duty Pallet Racks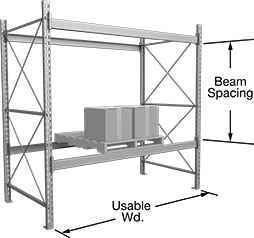 Complete Unit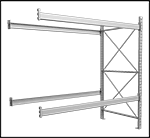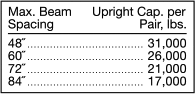 Keyhole Slots
With up to 9,600 lbs. capacity per storage level, these are the strongest pallet racks we offer. They are built for use with power-lifting equipment. Beams slip into keyhole slots on uprights and lock with spring clips to prevent accidental separation.
Mount to floor with concrete anchors (not included).
Warning: Do not exceed the capacity of uprights or beams, whichever is rated lowest within your rack assembly.
For technical drawings and 3-D models, click on a part number.
Wire Decking
for One Level

Ht.,




ft.

Dp.

Usable


Wd.

Capacity per
Storage


Level,

lbs.

Overall


Wd.

No.


of

Dia.

Each
Each
Each

Complete Unit

8
36"
95

1/2

"
9,600
101

1/2

"
8

9/16

"
0000000
000000000
000000
0000000
0000000
000000
8
48"
95

1/2

"
9,600
101

1/2

"
8

9/16

"
0000000
00000000
000000
000000
000000
00
10
48"
95

1/2

"
9,600
101

1/2

"
8

9/16

"
0000000
00000000
000000
000000
000000
00
8
36"
95

1/2

"
9,600
98

1/2

"
4

9/16

"
0000000
000000
000000
000000
0000000
00000
8
48"
95

1/2

"
9,600
98

1/2

"
4

9/16

"
0000000
000000
000000
000000
000000
00
10
48"
95

1/2

"
9,600
98

1/2

"
4

9/16

"
0000000
000000
000000
000000
000000
00