Inspection Record Tags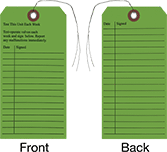 Log details about routine equipment inspections. Hang these tags using the included tag holder.
Ht.

Wd.

Tag Trade
Size
Material
Grommet
Material
Type
Material

Lg.

Pkg.




Qty.

Pkg.

Test This Unit Each

Week—

Date—

Signed

6

1/4

"
3

1/8

"
8
Cardstock
Metal
Wire
Steel
12"
10
0000000
000000
Weather-Resistant

Inspection Record Tags
Tags are laminated in plastic or aluminum so they hold up outdoors.
Plastic-laminated tags resist moisture and are almost impossible to tear. Write on them using a pencil, pen, or permanent marker. Attach them using the included cable tie.
Write on aluminum-laminated tags with a pen, pencil, or sharp object to create impressions that are visible, even if the ink wears away.
Emergency Eyewash Inspection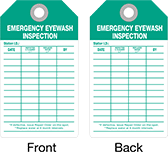 Visibility

Ht.

Wd.

Thick.

Grommet
Material
Hole


Dia.

Material

Lg.

Pkg.




Qty.

Pkg.

Plastic-Laminated

Vinyl Plastic with Cable Tie Tag Holder

Standard
5

5/8

"
3

1/8

"
0.03"
Metal

3/8

"
Nylon Plastic
7"
10
00000000
000000
Eye Wash Station Inspection

Visibility

Ht.

Wd.

Thick.

Hole


Dia.

Pkg.




Qty.

Pkg.

Aluminum-Laminated

Cardstock

Standard
5"
3"
0.02"

3/16

"
10
00000000
000000
Eyewash/Shower Inspection Record

Visibility

Ht.

Wd.

Thick.

Hole


Dia.

Pkg.




Qty.

Pkg.

Aluminum-Laminated

Cardstock

Standard
5"
3"
0.02"

3/16

"
10
00000000
000000