E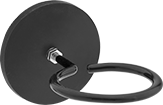 F
Store tools such as brooms, screwdrivers, and flashlights with these holders that attach to magnetic surfaces.
Vinyl-coated and nylon-coated holders protect items from scratches.
Styles D and E suspend items that are attached to a hook.
Style F are often used to hold impact wrenches, heat guns, and other pistol-grip tools.
For technical drawings and 3-D models, click on a part number.
Style
For
Item


Dia.

Wd.

Ht.

Dp.

Cap.,




lbs.

Material
Appearance
Base
Material
Base
Appearance
Each
E

1/2

"
3

1/8

"
3

1/8

"
2

1/8

"
55
Zinc-Plated Steel
Dull
Nickel-Plated Steel
Dull
00000000
000000
E

9/16

"
2"
2"
2

1/8

"
20
Zinc-Plated Steel
Dull
Chrome-Plated Steel
Dull
00000000
0000
E

9/16

"
2"
2"
2

1/8

"
50
Zinc-Plated Steel
Dull
Chrome-Plated Steel
Dull
00000000
00000
E
1"
4

7/8

"
4

7/8

"
2

1/2

"
120
Nickel-Plated Steel
Dull
Chrome-Plated Steel
Dull
00000000
00000
F
3

1/16

"
3

3/8

"
3

1/2

"
5

1/4

"
105
Black Vinyl-Coated Steel
__
Black Rubber-Coated Steel
__
0000000
00000