Eyebolts with
Nuts—

For Lifting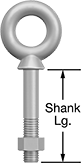 With Shoulder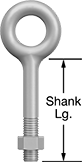 Without Shoulder
Also known as nut eyebolts, these are designed for through-hole applications.
Galvanized steel eyebolts have a hot-dipped finish for corrosion resistance.
304 stainless steel eyebolts are more corrosion resistant than galvanized steel.
316 stainless steel are the most corrosion resistant eyebolts.
Note: Capacities listed are for vertical lifting only. Eyebolts with shoulder can be used for angular lifting up to 45°, but the capacities will be significantly reduced. For angular lifting, we recommend Hoist Rings. Eyebolts without shoulder are for vertical lifting only.
Warning: Never use to lift people or items over people.
For technical drawings and 3-D models, click on a part number.
Size

Lg.

Shank


Lg.

Eye


Dia.

Vertical


Capacity,

lbs.

Threading

No.


Included
Style
Overall


Lg.

Each

With Shoulder

Galvanized Steel

1/4

"-20

1

1/2

"
2"

1/2

"
500
Partially Threaded
1
Hex
3

1/8

"
0000000
00000

1/4

"-20

1

1/2

"
3"

1/2

"
500
Partially Threaded
1
Hex
4

1/8

"
0000000
0000

1/4

"-20

2"
4"

1/2

"
500
Partially Threaded
1
Hex
5

1/8

"
0000000
0000

5/16

"-18

1

1/2

"
2

1/4

"

5/8

"
800
Partially Threaded
1
Hex
3

5/8

"
0000000
0000

5/16

"-18

1

1/2

"
3

1/4

"

5/8

"
800
Partially Threaded
1
Hex
4

5/8

"
0000000
0000

5/16

"-18

2

1/2

"
4

1/4

"

5/8

"
800
Partially Threaded
1
Hex
5

5/8

"
0000000
0000

3/8

"-16

1

1/2

"
2

1/2

"

3/4

"
1,200
Partially Threaded
1
Hex
4

1/4

"
0000000
0000

3/8

"-16

1

1/2

"
3"

3/4

"
1,200
Partially Threaded
1
Hex
4

3/4

"
0000000
0000

3/8

"-16

2"
4

1/2

"

3/4

"
1,200
Partially Threaded
1
Hex
6

1/4

"
0000000
0000

3/8

"-16

2

1/2

"
4

1/2

"

3/4

"
1,200
Partially Threaded
1
Hex
6"
0000000
00000

3/8

"-16

2

1/2

"
5"

3/4

"
1,200
Partially Threaded
1
Hex
6

3/4

"
0000000
00000

3/8

"-16

3"
6"

3/4

"
1,200
Partially Threaded
1
Hex
7

3/4

"
0000000
00000

3/8

"-16

4"
8"

3/4

"
1,200
Partially Threaded
1
Hex
9

3/4

"
0000000
00000

1/2

"-13

1

1/2

"
3

1/4

"
1"
2,100
Partially Threaded
1
Hex
5

1/2

"
0000000
0000

1/2

"-13

1

7/8

"
2"
1"
2,100
Partially Threaded
1
Hex
4

1/4

"
0000000
0000

1/2

"-13

2"
4

1/2

"
1"
2,100
Partially Threaded
1
Hex
6

3/4

"
0000000
0000

1/2

"-13

3"
6"
1"
2,100
Partially Threaded
1
Hex
8

1/4

"
0000000
00000

1/2

"-13

4"
8"
1"
2,100
Partially Threaded
1
Hex
10

1/4

"
0000000
00000

1/2

"-13

4"
10"
1"
2,100
Partially Threaded
1
Hex
12

1/4

"
0000000
00000

1/2

"-13

4"
12"
1"
2,100
Partially Threaded
1
Hex
14

1/4

"
0000000
00000

5/8

"-11

2"
4"
1

1/4

"
5,200
Partially Threaded
1
Hex
6

3/8

"
0000000
00000

5/8

"-11

2"
4

1/2

"
1

1/4

"
3,500
Partially Threaded
1
Hex
7

1/4

"
0000000
00000

5/8

"-11

3"
6"
1

1/4

"
3,500
Partially Threaded
1
Hex
8

1/2

"
0000000
00000

5/8

"-11

4"
8"
1

1/4

"
3,500
Partially Threaded
1
Hex
10

1/2

"
0000000
00000

5/8

"-11

4"
10"
1

1/4

"
3,500
Partially Threaded
1
Hex
12

1/2

"
0000000
00000

5/8

"-11

4"
12"
1

1/4

"
3,500
Partially Threaded
1
Hex
14

1/2

"
0000000
00000

3/4

"-10

2

1/2

"
4

1/2

"
1

1/2

"
5,200
Partially Threaded
1
Hex
7

3/4

"
0000000
00000

3/4

"-10

3"
6"
1

1/2

"
5,200
Partially Threaded
1
Hex
9

1/8

"
0000000
00000

7/8

"-9

2

1/2

"
5"
1

3/4

"
7,000
Partially Threaded
1
Hex
9

1/4

"
0000000
00000

7/8

"-9

4"
8"
1

3/4

"
7,000
Partially Threaded
1
Hex
12

1/8

"
0000000
00000
1"-8

3"
6"
2"
10,000
Partially Threaded
1
Hex
10

1/2

"
0000000
00000
1"-8

4"
9"
2"
10,000
Partially Threaded
1
Hex
13

1/4

"
0000000
00000
1

1/4

"-7

4"
8"
2

1/2

"
21,000
Partially Threaded
1
Hex
12

3/4

"
0000000
000000
1

1/4

"-7

4"
12"
2

1/2

"
21,000
Partially Threaded
1
Hex
16

3/4

"
0000000
000000
1

1/2

"-6

6"
15"
3"
24,000
Partially Threaded
1
Hex
20

3/4

"
0000000
000000

304 Stainless Steel

1/4

"-20

1"
4"

3/4

"
450
Partially Threaded
1
Hex
5

3/8

"
0000000
00000

5/16

"-18

1

1/4

"
4"

7/8

"
775
Partially Threaded
1
Hex
5

5/8

"
0000000
00000

3/8

"-16

1

1/2

"
4

1/2

"

3/4

"
1,150
Partially Threaded
1
Hex
6

1/4

"
0000000
00000

1/2

"-13

2"
4

1/2

"
1"
2,150
Partially Threaded
1
Hex
6

5/8

"
0000000
00000

1/2

"-13

2"
6"
1"
2,150
Partially Threaded
1
Hex
8

3/8

"
0000000
00000

5/8

"-11

2

1/2

"
4"
1

3/8

"
3,425
Partially Threaded
1
Hex
7

1/8

"
0000000
00000

5/8

"-11

2

1/2

"
6"
1

3/8

"
3,425
Partially Threaded
1
Hex
9

1/8

"
0000000
00000

3/4

"-10

3"
6"
1

1/2

"
5,125
Partially Threaded
1
Hex
9

1/4

"
0000000
00000
1"-8

3"
6"
2"
9,350
Partially Threaded
1
Hex
10

3/4

"
0000000
000000

316 Stainless Steel

1/4

"-20

1"
1

1/4

"

1/2

"
500
Partially Threaded
1
Hex
2

3/8

"
0000000
00000

1/4

"-20

1

1/2

"
2"

1/2

"
500
Partially Threaded
1
Hex
3

1/8

"
0000000
00000

1/4

"-20

2"
4"

1/2

"
500
Partially Threaded
1
Hex
5

1/8

"
0000000
00000

5/16

"-18

3/8

"
1

7/16

"

5/8

"
800
Partially Threaded
1
Hex
2

3/4

"
0000000
00000

5/16

"-18

1

1/2

"
2

1/4

"

5/8

"
800
Partially Threaded
1
Hex
3

5/8

"
0000000
00000

5/16

"-18

2

1/2

"
4

1/4

"

5/8

"
800
Partially Threaded
1
Hex
5

5/8

"
0000000
00000

3/8

"-16

3/4

"

3/4

"

3/4

"
1,200
Fully Threaded
1
Hex
2

1/2

"
0000000
00000

3/8

"-16

1"
1

1/2

"

3/4

"
1,200
Partially Threaded
1
Hex
3

1/4

"
0000000
00000

3/8

"-16

1

1/2

"
2

1/2

"

3/4

"
1,200
Partially Threaded
1
Hex
4

1/4

"
0000000
00000

3/8

"-16

2"
4

1/4

"

3/4

"
1,200
Partially Threaded
1
Hex
6

1/8

"
0000000
00000

1/2

"-13

1

1/2

"
3

1/4

"
1"
2,200
Partially Threaded
1
Hex
5

1/2

"
0000000
00000

1/2

"-13

3"
6"
1"
2,200
Partially Threaded
1
Hex
8

1/4

"
0000000
00000

5/8

"-11

2"
4

1/2

"
1

1/4

"
3,500
Partially Threaded
1
Hex
7

1/4

"
0000000
00000

3/4

"-10

7/8

"
1"
1

1/2

"
5,125
Partially Threaded
1
Hex
4"
00000000
00000

3/4

"-10

1

3/4

"
2"
1

1/2

"
5,125
Partially Threaded
1
Hex
5

1/8

"
00000000
00000

3/4

"-10

2"
4

1/2

"
1

1/2

"
5,125
Partially Threaded
1
Hex
7

1/2

"
0000000
00000

3/4

"-10

3"
6"
1

1/2

"
5,125
Partially Threaded
1
Hex
9

1/8

"
00000000
000000

7/8

"-9

2

1/2

"
5"
1

3/4

"
7,125
Partially Threaded
1
Hex
8

5/8

"
0000000
000000
1"-8

1

3/8

"
1

7/16

"
2"
9,350
Partially Threaded
1
Hex
5

3/8

"
00000000
000000
1"-8

2

1/4

"
2

1/2

"
2"
9,350
Partially Threaded
1
Hex
6

3/8

"
00000000
000000
1"-8

3"
6"
2"
9,350
Partially Threaded
1
Hex
9

7/8

"
0000000
000000

Without Shoulder

Galvanized Steel

1/4

"-20

1

1/2

"
2"

1/2

"
500
Partially Threaded
1
Hex
3"
0000000
0000

1/4

"-20

1

1/2

"
3"

1/2

"
500
Partially Threaded
1
Hex
4"
0000000
0000

1/4

"-20

2"
4"

1/2

"
500
Partially Threaded
1
Hex
5"
0000000
0000

1/4

"-20

2

1/2

"
5"

1/2

"
500
Partially Threaded
1
Hex
6"
0000000
0000

1/4

"-20

3"
6"

1/2

"
500
Partially Threaded
1
Hex
7"
0000000
0000

5/16

"-18

1

1/2

"
2

1/4

"

5/8

"
800
Partially Threaded
1
Hex
3

1/2

"
0000000
0000

5/16

"-18

1

1/2

"
3

1/4

"

5/8

"
800
Partially Threaded
1
Hex
4

1/2

"
0000000
0000

5/16

"-18

2

1/2

"
4

1/4

"

5/8

"
800
Partially Threaded
1
Hex
5

1/2

"
0000000
0000

5/16

"-18

2

1/2

"
5"

5/8

"
800
Partially Threaded
1
Hex
6

1/4

"
0000000
0000

5/16

"-18

3"
6"

5/8

"
800
Partially Threaded
1
Hex
7

1/4

"
0000000
00000

3/8

"-16

1

1/2

"
2

1/2

"

3/4

"
1,200
Partially Threaded
1
Hex
4"
0000000
0000

3/8

"-16

1

1/2

"
3"

3/4

"
1,200
Partially Threaded
1
Hex
4

1/2

"
0000000
0000

3/8

"-16

1

1/2

"
4"

3/4

"
1,200
Partially Threaded
1
Hex
5

1/2

"
0000000
0000

3/8

"-16

2"
4

1/4

"

3/4

"
1,200
Partially Threaded
1
Hex
5

3/4

"
0000000
0000

3/8

"-16

2

1/2

"
5"

3/4

"
1,200
Partially Threaded
1
Hex
6

1/2

"
0000000
00000

3/8

"-16

3"
6"

3/4

"
1,200
Partially Threaded
1
Hex
7

1/2

"
0000000
00000

3/8

"-16

4"
8"

3/4

"
1,200
Partially Threaded
1
Hex
9

1/2

"
0000000
00000

3/8

"-16

4"
10"

3/4

"
1,200
Partially Threaded
1
Hex
11

1/2

"
0000000
00000

1/2

"-13

1

1/2

"
3

1/4

"
1"
2,100
Partially Threaded
1
Hex
5

1/4

"
0000000
0000

1/2

"-13

1

7/8

"
2"
1"
2,100
Partially Threaded
1
Hex
4"
0000000
0000

1/2

"-13

2"
4"
1"
2,100
Partially Threaded
1
Hex
6"
0000000
0000

1/2

"-13

2"
4

1/2

"
1"
2,100
Partially Threaded
1
Hex
6

1/2

"
0000000
0000

1/2

"-13

3"
6"
1"
2,100
Partially Threaded
1
Hex
8"
0000000
00000

1/2

"-13

4"
8"
1"
2,100
Partially Threaded
1
Hex
10"
0000000
00000

1/2

"-13

4"
10"
1"
2,100
Partially Threaded
1
Hex
12"
0000000
00000

1/2

"-13

4"
12"
1"
2,100
Partially Threaded
1
Hex
14"
0000000
00000

5/8

"-11

2"
4

1/2

"
1

1/4

"
3,500
Partially Threaded
1
Hex
6

3/4

"
0000000
00000

5/8

"-11

3"
6"
1

1/4

"
3,500
Partially Threaded
1
Hex
8

1/4

"
0000000
00000

5/8

"-11

4"
8"
1

1/4

"
3,500
Partially Threaded
1
Hex
10

1/4

"
0000000
00000

5/8

"-11

4"
10"
1

1/4

"
3,500
Partially Threaded
1
Hex
12

1/4

"
0000000
00000

5/8

"-11

4"
12"
1

1/4

"
3,500
Partially Threaded
1
Hex
14

1/4

"
0000000
00000

5/8

"-11

6"
15"
1

1/4

"
3,500
Partially Threaded
1
Hex
17

1/4

"
0000000
00000

5/8

"-11

6"
18"
1

1/4

"
3,500
Partially Threaded
1
Hex
20

1/4

"
0000000
00000

3/4

"-10

2

1/2

"
4

1/2

"
1

1/2

"
5,200
Partially Threaded
1
Hex
7

1/4

"
0000000
00000

3/4

"-10

3"
6"
1

1/2

"
5,200
Partially Threaded
1
Hex
8

3/4

"
0000000
00000

3/4

"-10

4"
8"
1

1/2

"
5,200
Partially Threaded
1
Hex
10

3/4

"
0000000
00000

3/4

"-10

4"
10"
1

1/2

"
5,200
Partially Threaded
1
Hex
12

3/4

"
0000000
00000

3/4

"-10

4"
12"
1

1/2

"
5,200
Partially Threaded
1
Hex
14

3/4

"
0000000
00000

3/4

"-10

6"
15"
1

1/2

"
5,200
Partially Threaded
1
Hex
17

3/4

"
0000000
00000

3/4

"-10

6"
18"
1

1/2

"
5,200
Partially Threaded
1
Hex
20

3/4

"
0000000
00000

7/8

"-9

2

1/2

"
5"
1

3/4

"
7,000
Partially Threaded
1
Hex
8

1/2

"
0000000
00000

7/8

"-9

3

1/2

"
6"
1

3/4

"
7,000
Partially Threaded
1
Hex
9

1/2

"
0000000
00000

7/8

"-9

4"
8"
1

3/4

"
7,000
Partially Threaded
1
Hex
11

1/2

"
0000000
00000

7/8

"-9

4"
12"
1

3/4

"
7,000
Partially Threaded
1
Hex
15

1/2

"
0000000
00000

7/8

"-9

6"
18"
1

3/4

"
7,000
Partially Threaded
1
Hex
21

1/2

"
0000000
00000
1"-8

3"
6"
2"
10,000
Partially Threaded
1
Hex
9

3/4

"
0000000
00000
1"-8

4"
9"
2"
10,000
Partially Threaded
1
Hex
12

3/4

"
0000000
00000
1"-8

4"
12"
2"
10,000
Partially Threaded
1
Hex
15

3/4

"
0000000
00000
1"-8

6"
18"
2"
10,000
Partially Threaded
1
Hex
21

3/4

"
0000000
00000
1"-8

6"
24"
2"
10,000
Partially Threaded
1
Hex
27

3/4

"
0000000
000000
1

1/4

"-7

4"
12"
2

3/16

"
13,500
Partially Threaded
1
Hex
16

3/8

"
0000000
00000
1

1/4

"-7

5"
6"
2

3/16

"
13,500
Partially Threaded
1
Hex
10

3/8

"
0000000
00000
1

1/2

"-6

4"
12"
2

1/2

"
20,000
Partially Threaded
1
Hex
16

3/8

"
0000000
000000

304 Stainless Steel

1/4

"-20

1"
4"

1/2

"
450
Partially Threaded
1
Hex
5"
0000000
00000

5/16

"-18

1

1/4

"
4"

5/8

"
775
Partially Threaded
1
Hex
5

1/4

"
0000000
00000

1/2

"-13

2"
4

1/2

"
1"
2,150
Partially Threaded
1
Hex
6

1/2

"
0000000
00000

1/2

"-13

2"
6"
1"
2,150
Partially Threaded
1
Hex
8"
0000000
00000

5/8

"-11

2

1/2

"
4"
1

3/8

"
3,425
Partially Threaded
1
Hex
6

1/2

"
0000000
00000

5/8

"-11

2

1/2

"
6"
1

3/8

"
3,425
Partially Threaded
1
Hex
8

1/2

"
0000000
00000

3/4

"-10

3"
6"
1

1/2

"
5,125
Partially Threaded
1
Hex
8

3/4

"
0000000
00000

7/8

"-9

3"
6"
1

3/4

"
7,125
Partially Threaded
1
Hex
9

1/2

"
0000000
000000
1"-8

3"
6"
2"
9,350
Partially Threaded
1
Hex
10"
0000000
000000

316 Stainless Steel

1/4

"-20

1"
1

1/4

"

1/2

"
500
Partially Threaded
1
Hex
2

1/4

"
0000000
00000

1/4

"-20

1

1/2

"
2"

1/2

"
500
Partially Threaded
1
Hex
3"
0000000
00000

1/4

"-20

2"
4"

1/2

"
500
Partially Threaded
1
Hex
5"
0000000
00000

5/16

"-18

3/8

"
1

7/16

"

5/8

"
800
Partially Threaded
1
Hex
2

5/8

"
0000000
00000

5/16

"-18

1

1/2

"
2

1/4

"

5/8

"
800
Partially Threaded
1
Hex
3

1/2

"
0000000
00000

5/16

"-18

2

1/2

"
4

1/4

"

5/8

"
800
Partially Threaded
1
Hex
5

1/2

"
0000000
00000

3/8

"-16

3/4

"

3/4

"

3/4

"
1,200
Fully Threaded
1
Hex
2

1/4

"
0000000
00000

3/8

"-16

1"
1

1/2

"

3/4

"
1,200
Partially Threaded
1
Hex
3

1/8

"
0000000
00000

3/8

"-16

1

1/2

"
2

1/2

"

3/4

"
1,200
Partially Threaded
1
Hex
4"
0000000
00000

3/8

"-16

2"
4

1/4

"

3/4

"
1,200
Partially Threaded
1
Hex
6"
0000000
00000

1/2

"-13

1

1/2

"
3

1/4

"
1"
2,200
Partially Threaded
1
Hex
5

1/4

"
0000000
00000

1/2

"-13

3"
6"
1"
2,200
Partially Threaded
1
Hex
8"
0000000
00000

5/8

"-11

2"
4

1/2

"
1

1/4

"
3,500
Partially Threaded
1
Hex
6

3/4

"
0000000
00000

3/4

"-10

7/8

"
1"
1

1/2

"
5,125
Partially Threaded
1
Hex
4"
00000000
00000

3/4

"-10

1

3/4

"
2"
1

1/2

"
5,125
Partially Threaded
1
Hex
4

7/8

"
00000000
00000

3/4

"-10

2"
4

1/2

"
1

1/2

"
5,125
Partially Threaded
1
Hex
7

1/2

"
0000000
00000

3/4

"-10

3"
6"
1

1/2

"
5,125
Partially Threaded
1
Hex
8

7/8

"
00000000
000000

7/8

"-9

2

1/2

"
5"
1

3/4

"
7,125
Partially Threaded
1
Hex
8

1/2

"
0000000
000000
1"-8

1

3/8

"
1

7/16

"
2"
9,350
Partially Threaded
1
Hex
5

3/4

"
00000000
000000
1"-8

2

1/4

"
2

1/2

"
2"
9,350
Partially Threaded
1
Hex
6

7/8

"
00000000
000000
1"-8

3"
6"
2"
9,350
Partially Threaded
1
Hex
10

3/8

"
0000000
000000
Size

Pitch,


mm

Lg.,


mm
Shank


Lg.,

mm
Eye

Dia.,


mm
Vertical


Capacity,

lbs.

Threading

No.


Included
Style
Overall


Lg.,

mm
Each

With Shoulder

316 Stainless Steel

M6

1
39
51
12
500
Partially Threaded
1
Hex
75
0000000
00000
M8

1.25
39
58
16
800
Partially Threaded
1
Hex
90
0000000
0000
M10

1.5
20
20
19
1,200
Fully Threaded
1
Hex
57
0000000
00000
M10

1.5
39
64
19
1,200
Partially Threaded
1
Hex
101
0000000
00000
M12

1.75
26
39
25
2,150
Partially Threaded
1
Hex
87
0000000
00000
M12

1.75
39
83
25
2,150
Partially Threaded
1
Hex
131
0000000
00000
M16

2
45
51
31
3,425
Partially Threaded
1
Hex
113
0000000
00000
M18

2.5
26
26
38
5,125
Fully Threaded
1
Hex
102
0000000
00000
M24

3
36
36
50
9,350
Fully Threaded
1
Hex
133
0000000
000000

Without Shoulder

316 Stainless Steel

M6

1
39
51
12
500
Partially Threaded
1
Hex
76
0000000
0000
M8

1.25
39
58
16
800
Partially Threaded
1
Hex
87
0000000
0000
M10

1.5
20
20
19
1,200
Fully Threaded
1
Hex
58
0000000
00000
M10

1.5
39
64
19
1,200
Partially Threaded
1
Hex
103
0000000
00000
M12

1.75
26
39
25
2,150
Partially Threaded
1
Hex
91
0000000
00000
M12

1.75
39
83
25
2,150
Partially Threaded
1
Hex
136
0000000
00000
M16

2
45
51
31
3,425
Partially Threaded
1
Hex
117
0000000
00000
M18

2.5
26
26
38
5,125
Fully Threaded
1
Hex
102
0000000
00000
M24

3
36
36
50
9,350
Fully Threaded
1
Hex
140
00000000
000000