Install and remove bearings, pulleys, sprockets, and other press-fit parts with tapered holes. Face-grip pullers can be used with Bearing Separators and V-Belt Pulley Separators (not included). Select a separator with a thread size that matches the leg thread size of your face-grip puller.
Replacement legs and optional legs (both sold separately) come in pairs. Choose from the optional legs to change the reach of your face-grip puller.
Two Jaws with Tips on One End

Adjustable
Face-Grip

Puller Sets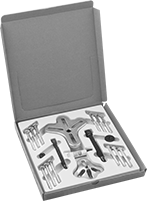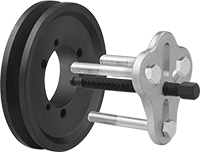 Shown Assembled
Also known as steering wheel and flywheel pullers, you can change the bolt configuration on these pullers to fit a variety of tapered hole patterns.
Puller
Material
Includes
Each
Steel
Adjustable Face-Grip Small-Hole Puller (For Up To 3

1/4

" OD; 4

3/8

" Reach) with 4

3/4

" Long Forcing Screw
Adjustable Face-Grip Large-Hole Puller (For Up To 4

5/8

" OD; 4

3/4

" Reach) with 5

5/8

" Long Forcing Screw
12 Flange-Head Cap Screws (3 of Each:

3/8

"-16 × 3

1/2

" Lg.,

3/8

"-24 × 3" Lg.,

5/16

"-18 × 3

1/2

" Lg., and

5/16

"-24 × 3

1/2

" Lg.)
00000000
0000000