About Industry Designation for Cable Insulation
Equipment-Cooling

Fan Power Cords


Wire
Leads ×
45°
Elbow Socket

Wire
Leads ×
90°
Elbow Socket

Wire
Leads ×
Multiple
45°
Elbow Sockets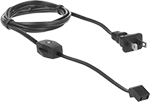 Plug ×
45°
Elbow Socket with
On/Off
Thumb Control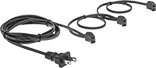 Plug ×
Multiple
45°
Elbow Sockets




Plug these cords into fans that have quick-disconnect terminals. The industry designation is SPT, so they have a flat cord shape.
Cords with a 90° elbow socket fit flush against the fan, so they fit in tight spaces.
Cords with a 45° elbow socket fit close against the fan.
Cords with an on/off thumb control can be manually turned on and off to regulate equipment temperature. Those with a temperature switch turn a fan on when the temperature reaches 88° F and off when it falls to 80° F. They are not adjustable.
No.

of
Outlets
Socket
End Shape
Voltage
Features

Lg.,




ft.

Cord


Wd.

Industry
Designation
Specifications Met
Color
Each

Wire Leads × Fan Socket

1
Straight
125V AC
__
2
0.2"
SPT-1

UL Listed, CSA Certified
Black
00000000
00000
1
Straight
125V AC
__
3
0.2"
SPT-1

UL Listed, CSA Certified
Black
00000000
0000
1
45° Elbow
125V AC
__
2
0.2"
SPT-1

UL Listed, CSA Certified
Black
00000000
0000
1
45° Elbow
125V AC
__
3
0.2"
SPT-1

UL Listed, CSA Certified
Black
00000000
0000
1
45° Elbow
125V AC
Temperature Switch
2
0.2"
SPT-1

UL Listed, CSA Certified
Green
000000000
00000
1
45° Elbow
125V AC
Temperature Switch
3
0.2"
SPT-1

UL Listed, CSA Certified
Green
000000000
00000
1
90° Elbow
125V AC
__
2
0.2"
SPT-1

UL Listed, CSA Certified
Black
00000000
0000
1
90° Elbow
125V AC
__
3
0.2"
SPT-1

UL Listed, CSA Certified
Black
00000000
0000
2
45° Elbow
125V AC
__
6
0.2"
SPT-1

UL Listed, CSA Certified
Black
000000000
0000
3
45° Elbow
125V AC
__
6
0.2"
SPT-1

UL Listed, CSA Certified
Black
000000000
0000
4
45° Elbow
125V AC
__
6
0.2"
SPT-1

UL Listed, CSA Certified
Black
000000000
0000

NEMA

1-15

Plug × Fan Socket

1
Straight
125V AC
__
3
0.2"
SPT-1

UL Listed, CSA Certified
Black
00000000
0000
1
Straight
125V AC
__
6
0.2"
SPT-1

UL Listed, CSA Certified
Black
00000000
0000
1
45° Elbow
125V AC
__
3
0.2"
SPT-1

UL Listed, CSA Certified
Black
00000000
0000
1
45° Elbow
125V AC
__
6
0.2"
SPT-1

UL Listed, CSA Certified
Black
00000000
0000
1
45° Elbow
125V AC
On/Off Thumb Control
3
0.2"
SPT-1

UL Listed, C-UL Listed

Black
000000000
0000
1
45° Elbow
125V AC
On/Off Thumb Control
6
0.2"
SPT-1

UL Listed, C-UL Listed

Black
000000000
0000
1
45° Elbow
125V AC
Temperature Switch
3
0.2"
SPT-1

UL Listed, CSA Certified
Green
000000000
00000
1
45° Elbow
125V AC
Temperature Switch
6
0.2"
SPT-1

UL Listed, CSA Certified
Green
000000000
00000
1
90° Elbow
125V AC
__
3
0.2"
SPT-1

UL Listed, CSA Certified
Black
00000000
0000
1
90° Elbow
125V AC
__
6
0.2"
SPT-1

UL Listed, CSA Certified
Black
00000000
0000
2
45° Elbow
125V AC
__
6
0.2"
SPT-1

UL Listed, CSA Certified
Black
000000000
0000
3
45° Elbow
125V AC
__
6
0.2"
SPT-1

UL Listed, CSA Certified
Black
000000000
0000
4
45° Elbow
125V AC
__
6
0.2"
SPT-1

UL Listed, CSA Certified
Black
000000000
0000

NEMA

5-15

Plug × Fan Socket

1
Straight
125V AC
Ring Terminal for Grounding
2
0.31"
SPT-1

UL Listed, CSA Certified
Black
00000000
00000
1
Straight
125V AC
Ring Terminal for Grounding
3
0.31"
SPT-1

UL Listed, CSA Certified
Black
00000000
00000
1
Straight
125V AC
Ring Terminal for Grounding
6
0.31"
SPT-1

UL Listed, CSA Certified
Black
00000000
00000
1
45° Elbow
125V AC
Ring Terminal for Grounding
2
0.31"
SPT-1

UL Listed, CSA Certified
Black
00000000
00000
1
45° Elbow
125V AC
Ring Terminal for Grounding
3
0.31"
SPT-1

UL Listed, CSA Certified
Black
00000000
00000
1
45° Elbow
125V AC
Ring Terminal for Grounding
6
0.31"
SPT-1

UL Listed, CSA Certified
Black
00000000
00000
1
45° Elbow
125V AC
Ring Terminal for Grounding, Temperature Switch
2
0.2"
SPT-1

UL Listed, CSA Certified
Black
000000000
00000
1
45° Elbow
125V AC
Ring Terminal for Grounding, Temperature Switch
3
0.2"
SPT-1

UL Listed, CSA Certified
Black
000000000
00000
1
45° Elbow
125V AC
Ring Terminal for Grounding, Temperature Switch
6
0.2"
SPT-1

UL Listed, CSA Certified
Black
000000000
00000
1
90° Elbow
125V AC
Ring Terminal for Grounding
2
0.31"
SPT-1

UL Listed, CSA Certified
Black
00000000
00000
1
90° Elbow
125V AC
Ring Terminal for Grounding
3
0.31"
SPT-1

UL Listed, CSA Certified
Black
00000000
00000
1
90° Elbow
125V AC
Ring Terminal for Grounding
6
0.31"
SPT-1

UL Listed, CSA Certified
Black
00000000
00000

NEMA

6-15

Plug × Fan Socket

1
Straight
250V AC
Ring Terminal for Grounding
6
0.31"
SPT-1

UL Listed, CSA Certified
Black
00000000
00000
1
45° Elbow
250V AC
Ring Terminal for Grounding
6
0.31"
SPT-1

UL Listed, CSA Certified
Black
00000000
00000
1
90° Elbow
250V AC
Ring Terminal for Grounding
6
0.31"
SPT-1

UL Listed, CSA Certified
Black
00000000
00000