Measured in decibels (dB), volume ratings indicate how much noise equipment makes. Some common volume levels include a whisper @ 20 dB, a refrigerator @ 40 dB, a conversation @ 60 dB, and a light machine shop @ 90 dB. OSHA recommends hearing protection for exposure to 80 dB and greater.
Enclosure-Cooling

Blowers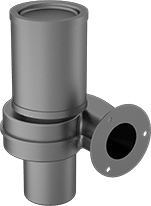 Create a more concentrated stream of air than enclosure-cooling fans to cool equipment faster. To save space inside enclosures, these blowers can mount outside. They draw cooler outside air into your enclosure or exhaust hot air through a louvered outlet vent. Incoming air is filtered to keep out dust and contaminants.
60 cfm blower has an open dripproof motor enclosure for relatively clean, dry, indoor locations.
Replacement filters are sold separately.
For technical drawings and 3-D models, click on a part number.