Fan-Cooled

Compressed Air Aftercoolers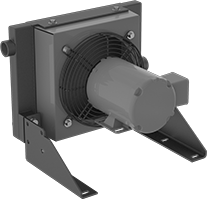 These aftercoolers have a fan that chills hot air coming from a compressor. Cooling the air condenses water for removal from your compressed air system. Install a separator (not included) after your aftercooler to collect and discharge water.
For technical drawings and 3-D models, click on a part number.
Pipe
Size

Thread
Type
Gender
Pipe
Size

Thread
Type
Gender

Max.




Pressure,


psi

Max.

Flow
Rate
@ psi

Max.




Temp.,




°F

Cools
Air
Within

Ht.

Wd.

Dp.

hp
Each

Ceiling-,

Floor-,

and

Wall-Mount

Single

Phase,

115-230V

AC

1

1/2

NPT

Female
1

1/2

NPT

Female
250
100 scfm @ 80
350°
15° F of Ambient Air
13

1/4

"
19

1/2

"
15

1/8

"

1/3

0000000
000000000
3D Printer

Portable Air Cleaners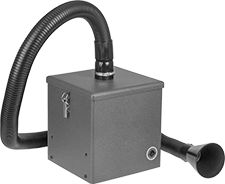 Draw particles and filament fumes away from open-frame 3D printers without cooling off printed parts. Unlike standard air cleaners, which create airflow strong enough to cool the print area and warp your parts, these low-airflow cleaners won't disrupt your print. A three-part filtering process keeps you from breathing harmful emissions: a prefilter traps large particles, then a combination HEPA and activated carbon filter captures both fine particles and fumes. These CE marked cleaners meet health, safety, and environmental protection standards for products.
Attach the included hose and funnel to the cleaner to pull fumes directly from your printer. These compact, lightweight cleaners fit into most work areas, and are quiet enough for office use. The powder-coated steel housing holds up over a long service life.
Airflow,


cfm
Volume

Current,


A
Voltage
For Inlet
Duct


Dia.

Ht.

Wd.

Dp.

Housing
Material

Lg.,




ft.

Material
Cord


Lg.,




ft.

Includes
Each
26
44 dBA @ 3 ft.
0.2
120V AC
2"
13

1/4

"
11

1/4

"
11"
Powder-Coated Steel
6
Plastic
6
Combination HEPA/Chemical Filter (Captures 99.99% of particles down to 0.03 microns), Disposable Prefilter
0000000
0000000