Wind-Driven

Roof-Mount

Exhaust Fans
Designed to spin freely with the slightest breeze, these fans create a vacuum that draws air out from buildings and ventilation systems—no electricity required. They are also known as turbine ventilators. Mount fans on your roof away from wind obstructions.
Optional mounting bases are sold separately.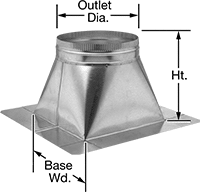 Flat Base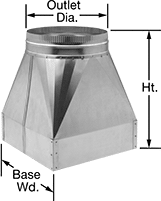 Straight Base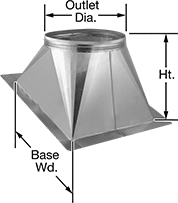 Slope Base

All bases have a square bottom, round top, and flashing to simplify installation.
To Order: For slope bases, please specify pitch: 1/12-11/12 in increments of 1/12. To determine pitch, use an angle indicator or divide rise by run (see illustration). For instance, if your roof rises 5" in 12" of horizontal space, your pitch is 5/12.
Fan-Cooled

Compressed Air Aftercoolers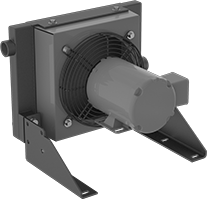 These aftercoolers have a fan that chills hot air coming from a compressor. Cooling the air condenses water for removal from your compressed air system. Install a separator (not included) after your aftercooler to collect and discharge water.
For technical drawings and 3-D models, click on a part number.
Pipe
Size

Thread
Type
Gender
Pipe
Size

Thread
Type
Gender

Max.




Pressure,


psi

Max.

Flow
Rate
@ psi

Max.




Temp.,




°F

Cools
Air
Within

Ht.

Wd.

Dp.

hp
Each

Ceiling-,

Floor-,

and

Wall-Mount

Single

Phase,

115-230V

AC

1

1/2

NPT

Female
1

1/2

NPT

Female
250
200 scfm @ 80
350°
15° F of Ambient Air
17

1/4

"
23

1/4

"
16

1/4

"

1/2

0000000
000000000