Measured in decibels (dB), volume ratings indicate how much noise equipment makes. Some common volume levels include a whisper @ 20 dB, a refrigerator @ 40 dB, a conversation @ 60 dB, and a light machine shop @ 90 dB. OSHA recommends hearing protection for exposure to 80 dB and greater.
Dust-Resistant

Direct-Drive

Wall-Mount

Exhaust Fans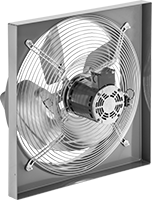 3
Better suited for dirty, dusty, and damp environments than standard direct-drive fans, these have a totally enclosed motor enclosure. Direct-drive fans have fewer moving parts than belt-drive fans for less maintenance. Use these fans to draw stagnant and humid air out of a room or area.
Collars and louvers are sold separately. Use a collar to connect a wall-mount exhaust fan to a louver.
For technical drawings and 3-D models, click on a part number.
Wind-Driven

Roof-Mount

Exhaust Fans
Designed to spin freely with the slightest breeze, these fans create a vacuum that draws air out from buildings and ventilation systems—no electricity required. They are also known as turbine ventilators. Mount fans on your roof away from wind obstructions.
Optional mounting bases are sold separately.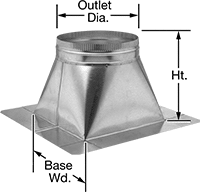 Flat Base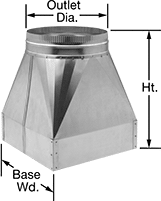 Straight Base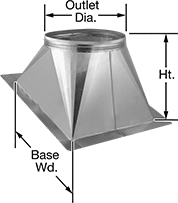 Slope Base

All bases have a square bottom, round top, and flashing to simplify installation.
To Order: For slope bases, please specify pitch: 1/12-11/12 in increments of 1/12. To determine pitch, use an angle indicator or divide rise by run (see illustration). For instance, if your roof rises 5" in 12" of horizontal space, your pitch is 5/12.
High-Flow

Low-Pressure

Compressed Air Blowers
Also known as regenerative blowers, use these to produce high-flow compressed air with low pressure or vacuum to operate pump drives, lift tables, and conveying systems. Compressed air blowers are also used for drying, exhausting, and aeration.
Air circulates inside the blower housing to compress air, which generates pressure or vacuum. Single-stage blowers circulate air once and then exhaust.
Inverter-rated blowers have a motor that can run at slow speeds without overheating, so they can be used with a motor speed control (variable frequency drive).
For technical drawings and 3-D models, click on a part number.
Single Stage Blower
Maximum
Pressure

Max.

Flow
Rate
@ psi
Vacuum
Rating
hp
Full
Load
Current

Vol.,


dB

Lg.

Wd.

Ht.

Temp.




Range,




° F

Inlet

Outlet

Each
Each
Each

Three

Phase,

208/230/460V

AC

(Inverter Rated)

NPT Female Inlet and Outlet

5 psi
125 in. of H2O
420 cfm @ 0
8.1 in. of Hg
110 in. of H2O
10
35.0 A @ 208 V AC
29.5 A @ 230 V AC
15.0 A @ 460 V AC
78
22"
18"
20"
32° to 100°
2

1/2

2

1/2

0000000
000000000
00000000
0000000
00000000
0000000

Three

Phase,

230/460V

AC

(Inverter Rated)

NPT Female Inlet and Outlet

4 psi
105 in. of H2O
795 cfm @ 0
7.0 in. of Hg
95 in. of H2O
18
52.0 A @ 230 V AC
26.0 A @ 460 V AC
79
29"
18"
20"
32° to 100°
2

1/2

4

0000000
00000000
00000000
000000
00000000
00000000