Measured in decibels (dB), volume ratings indicate how much noise equipment makes. Some common volume levels include a whisper @ 20 dB, a refrigerator @ 40 dB, a conversation @ 60 dB, and a light machine shop @ 90 dB. OSHA recommends hearing protection for exposure to 80 dB and greater.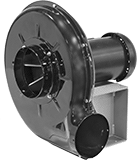 With Round Outlet
Powerful and durable, these blowers are able to blow air through larger systems that have more airflow resistance than standard blowers can handle. They install in ductwork similar to duct fans, but are for use where high static pressures are present. Use them for equipment cooling, material conveying, drying, ventilating, and exhausting. Blowers with a totally enclosed motor enclosure can be used in dirty, dusty, and damp environments.
Note: Airflow depends on the resistance created by ductwork. This resistance, known as static pressure (SP), is measured in inches of water.
For technical drawings and 3-D models, click on a part number.
Airflow @
Static
Pressure
Volume
Motor


Speed,


rpm

Power,


hp

Dia.

Inlet


Dia.

Wheel


Dia.

Ht.

Wd.

Dp.

Wt.,




lbs.

Temp.




Range,




°F

Mount.


Fasteners
Included

Mount.


Hole


Dia.

Each
Each

With Round Outlet and

Inlet—

Totally Enclosed Motor Enclosure

230/460V

AC,

Three

Phase—

Hardwire

515 cfm @ 5 in. of H₂O
680 cfm @ 3 in. of H₂O
65 dB @ 15 ft.
3,450
1
6"
6"
11"
21

1/8

"
19

1/8

"
18

1/4

"
62
-10° to 150°
No

7/16

"
0000000
0000000
0000000
0000000
1,000 cfm @ 5 in. of H₂O
1,200 cfm @ 3 in. of H₂O
70 dB @ 15 ft.
3,450
3
6"
7"
13"
21

1/8

"
19

1/8

"
18

7/8

"
95
-10° to 150°
No

7/16

"
0000000
00000000
0000000
000000