Measured in decibels (dB), volume ratings indicate how much noise equipment makes. Some common volume levels include a whisper @ 20 dB, a refrigerator @ 40 dB, a conversation @ 60 dB, and a light machine shop @ 90 dB. OSHA recommends hearing protection for exposure to 80 dB and greater.
Supply-Side

Guards for

Wall-Mount

Exhaust Fans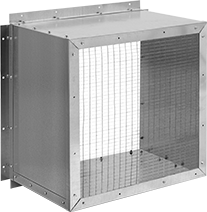 Protect your wall-mount exhaust fans from debris.
For technical drawings and 3-D models, click on a part number.
For Blade


Dia.

Ht.

Wd.

Dp.

Material
Mounting
Fasteners Included
Each
20", 24"
30

1/2

"
30

1/2

"
25"
Galvanized Steel
Yes
00000000
0000000
Direct-Drive

Upblast

Roof-Mount

Exhaust Fans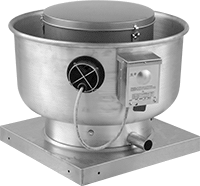 1
Direct-drive fans have fewer moving parts than belt-drive fans for less maintenance. These exhaust fans draw stagnant and humid air out through your roof and then expel it up and away from the roof surface. All fans have a disconnect switch to turn off the power for servicing.
Note: Airflow depends on the resistance created by ductwork. This resistance, known as static pressure (SP), is measured in inches of water.
Blade


Dia.

Airflow @
Static
Pressure
Volume
Motor


Speed,


rpm

Power,


hp

Dia.

Ht.

Base


Wd.

Wt.,




lbs.

Max.


Ambient
Temperature
Housing
Material
Specifications
Met
Each
Each

Open Dripproof Motor Enclosure

120V

AC,

Single

Phase—

Hardwire

1
16"
2,450 cfm @

1/2

in. of H₂O
2,900 cfm @ 0 in. of H₂O
47 dB @ 15 ft.
1,625

3/4

31

7/8

"
30

1/2

"
24

3/4

"
80
300° F
Aluminum
ETL Listed

0000000
000000000
0000000
0000000