Measured in decibels (dB), volume ratings indicate how much noise equipment makes. Some common volume levels include a whisper @ 20 dB, a refrigerator @ 40 dB, a conversation @ 60 dB, and a light machine shop @ 90 dB. OSHA recommends hearing protection for exposure to 80 dB and greater.
Hazardous Location Exhaust Fans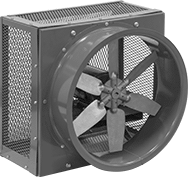 These fans have a motor that is UL listed for hazardous environments. Use them to draw stagnant and humid air out of a room or area. All are direct-drive fans and have fewer moving parts than belt-drive fans for less maintenance.
Collars and louvers are sold separately. Use a collar to connect a wall-mount exhaust fan to a louver.
Fans that cannot be sold to California do not meet energy efficiency requirements.
Blade


Dia.

Airflow,


cfm
Volume
Motor


Speed,


rpm

No.


of
Speeds

Power,


hp

Ht.

Wd.

Dp.

Housing
Material
Blade
Material
Environmental
Rating
Cannot
Be
Sold To
Each
Each

230/460V

AC,

Three

Phase—

Hardwire

30"
11,000
69 dB @ 15 ft.
1,125
1
1

1/2

36

1/8

"
36

1/8

"
29

1/4

"
Steel
Aluminum
NEC Class I Divisions 1, 2 Group D
NEC Class II Divisions 1, 2 Groups F, G
CA
0000000
000000000
0000000
0000000