Belt-Drive

Mobile Floor Fans
Belt-drive fans are quieter and have a longer life span than direct-drive fans because components can be replaced if worn or damaged.
Fans with a totally enclosed motor enclosure can be used in dirty, dusty, and damp environments.
Add an optional misting kit to fans with steel housing to make them produce a fine mist when connected to a garden hose. There are multiple misting nozzles, each with an inline filter to prevent clogging. These kits are not recommended for indoor use.
Hazardous Location Jet Stream Fans
Fans with wheels can be rolled into place before they are hardwired. They do not allow for movement once the unit is in use.
Direct-drive fans have fewer moving parts than belt-drive fans for less maintenance.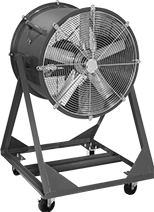 Blade


Dia.

Airflow,


cfm
Volume
Motor


Speed,


rpm

No.


of
Speeds

Power,


hp

Current,


A

Ht.

Wd.

Dp.

Fan
Head
Movement
Drive
Type
Housing
Material
Blade
Material
Guard
Material
Each

230/460V

AC,

Three

Phase—

Hardwire

36"
20,000
86 dB @ 15 ft.
1,750
1
3
8.2/4.1
51"
42"
32"
Non-Oscillating
Direct
Steel
Aluminum
Steel
0000000
000000000