Measured in decibels (dB), volume ratings indicate how much noise equipment makes. Some common volume levels include a whisper @ 20 dB, a refrigerator @ 40 dB, a conversation @ 60 dB, and a light machine shop @ 90 dB. OSHA recommends hearing protection for exposure to 80 dB and greater.
Equipment-Cooling

Fan Trays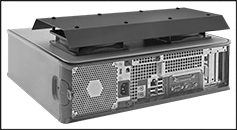 To keep unenclosed electronic components cool, place a tray on top of equipment to direct a stream of air below. A thermostat turns the unit on when the temperature reaches 90° F and off when it falls to 86° F.
Note: Not for use in enclosed spaces.
For technical drawings and 3-D models, click on a part number.
Ht.

Wd.

Dp.

Airflow,


cfm

Temp.




Range,




°F

Volume,


dBA

Current,


A
Frame
Material
Blade
Material
Thermostat
Included
Specifications
Met
Each

120V

AC,

Single,

60Hz—

Two Prong Plug

2

1/16

" (52.388 mm)
15" (381 mm)
7

1/8

" (181 mm)
20
-55° to 230°
18
0.03
Plastic
Plastic
Yes
CSA Certified, UL Listed
0000000
0000000