Economy
Direct-Drive

Mobile Floor Fans
Direct-drive fans have fewer moving parts than belt-drive fans for less maintenance.
Fans with a totally enclosed motor enclosure can be used in dirty, dusty, and damp environments.
Hazardous Location Floor Fans
Often used in welding shops and oil refineries, the motor in these fans is rated as safe for use around flammable and combustible gas, vapor, and dust. As a belt-drive motor, it's quieter than direct-drive motors and has a longer life span because its components are replaceable. The motor is totally enclosed for protection in dusty and damp environments. These fans are freestanding, so there's no mounting required. They have wheels for rolling into place before they're hardwired, but don't allow for movement once they're in use.
High-Volume

Low-Heat

Air Blowers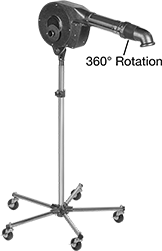 D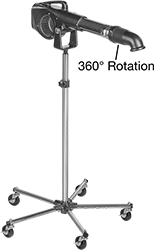 E

Combine high-volume airflow with low-heat output for warming and drying. These blowers tilt to direct airflow.
Noise-reducing blowers are quieter than all of the other blowers.
Blowers with a fixed airflow rate are portable, so you can carry them from job to job.
UL and C-UL Listed blowers meet U.S. and Canadian safety standards.
Use the optional wye adapters to direct air into two hoses for more complete drying.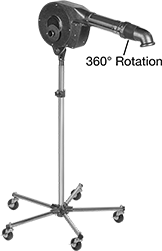 D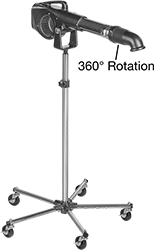 E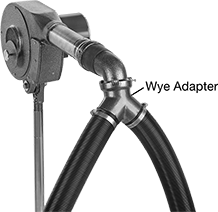 Temp.




Setting,




°F

Airflow,


cfm
Tip


Dia.

Nozzle


Lg.

Lg.

Wd.

Ht.

Ht.


Adjustability

Wattage,


W
Heating
Element
Material
Housing
Material
Plug
Type
NEMA
Style
Features
Specifications
Met

Each

120V AC

Adjustable Airflow

D
100°, 120°
106-230
2

1/4

"
16"
30"
9"
52"
Adjustable
1,800
Mica
Aluminum
Three Prong
5-15
__
C-UL Listed
UL Listed

0000000
0000000

Fixed Airflow

E
110°, 130°
175
2

1/4

"
16"
26"
9"
52"
Adjustable
1,800
Mica
Aluminum
Three Prong
5-15
Handle, Noise Reducing
__
0000000
000000