Collars for
Wall-Mount

Exhaust Fans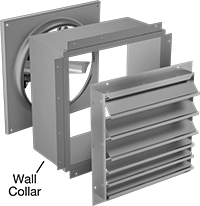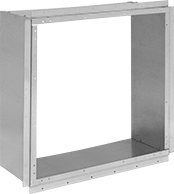 Collar
Connect your wall-mount exhaust fan to a louver. One side of the collar fits around your exhaust fan and the other includes a flange for mounting a louver. Overall height and width include the mounting flange.
Note: To be compatible with the fan, the collar must be larger than the overall fan dimensions. To be compatible with the louver, the collar's For Louvers That Fit Opening Height and Width must match the louver's For Opening Width and Height.
For technical drawings and 3-D models, click on a part number.
For Louvers
That Fit
Opening

Ht.

Wd.

Ht.

Wd.

Ht.

Wd.

Ht.

Wd.

Dp.

Mounting
Flange

Wd.

Material
Each
60"
60"
56

3/4

"
56

3/4

"
61"
61"
63

1/2

"
63

1/2

"
23"
1

1/4

"
Galvanized Steel
0000000
0000000