Measured in decibels (dB), volume ratings indicate how much noise equipment makes. Some common volume levels include a whisper @ 20 dB, a refrigerator @ 40 dB, a conversation @ 60 dB, and a light machine shop @ 90 dB. OSHA recommends hearing protection for exposure to 80 dB and greater.
Dust-Resistant

Belt-Drive

Wall-Mount

Exhaust Fans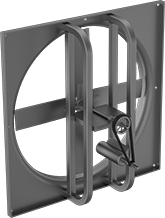 Fan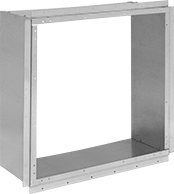 Collar
Better suited for dirty, dusty, and damp environments than standard direct-drive fans, these have a totally enclosed motor enclosure. Belt-drive fans are quieter and have a longer life span than direct-drive fans because components can be replaced if worn or damaged. Use these fans to draw stagnant and humid air out of a room or area.
Collars and louvers are sold separately. Use a collar to connect a wall-mount exhaust fan to a louver.
For technical drawings and 3-D models, click on a part number.