Often used to cool warehouse aisles and production lines, these fans generate a stream of air that travels farther than air from conventional fans.They have a totally enclosed motor enclosure, which can be used in dirty, dusty, and damp environments.
Direct-drive fans have fewer moving parts than belt-drive fans for less maintenance.
Fan with hardwire connection and wheels can be rolled into place before it is hardwired. It does not allow for movement once the unit is in use.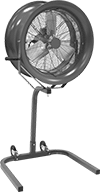 With Wheels
Blade


Dia.

Airflow,


cfm
Volume
Motor


Speed,


rpm

No.


of
Speeds

Power,


hp

Current,


A

Ht.

Wd.

Dp.

Fan
Head
Movement
Housing
Material
Blade
Material
Guard
Material
Each

208-230/460V

AC,

Three

Phase—

Hardwire

30"
12,000
94 dB @ 15 ft.
1,800
1
1
3.6/1.8
70"
32"
35"
Non-Oscillating
Steel
Aluminum
Steel
0000000
000000000
High-Output

Mobile Evaporative Air Coolers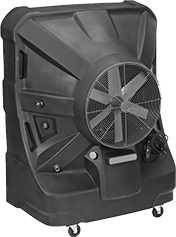 Produce twice as much cool air as standard mobile evaporative air coolers. Also known as swamp coolers, use these air coolers wherever air conditioning is impractical. They take in water, which soaks into pads. When air is blown through the wet pads, the evaporation produces cool air.
Replacement pads are sold separately.
Blade


Dia.

Airflow,


cfm
Reservoir


Cap.,




gal.

Motor


Speed,


rpm

No.


of
Speeds

Power,


hp

Current, A

Ht.

Wd.

Dp.

Thread
Size
Thread
Type
Housing
Material

No.


Required

No.


Included
Each

Pkg.




Qty.

Pkg.

120V

AC,

Single

Phase—

NEMA

5-15,

Three-Prong

Plug

24"
8,500 cfm
55
1,100
Variable

1/2

9.2
70"
55"
33"

3/4

GHT

Plastic
4
4
0000000
000000000
4
0000000
0000000