Measured in decibels (dB), volume ratings indicate how much noise equipment makes. Some common volume levels include a whisper @ 20 dB, a refrigerator @ 40 dB, a conversation @ 60 dB, and a light machine shop @ 90 dB. OSHA recommends hearing protection for exposure to 80 dB and greater.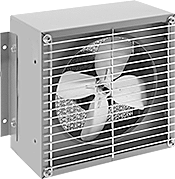 Protect equipment in enclosures and cabinets from heat. All of these fans are reversible to exhaust hot air out or draw cooler outside air in through a filter that removes dirt and dust. They have UL recognized components.
Replacement filters are sold separately.
For technical drawings and 3-D models, click on a part number.
Ht.

Wd.

Dp.

Ht.

Wd.

Airflow,


cfm

Volume,


dB
Motor


Speed,


rpm

Current,


A
Blade
Material
Guard
Material
Mounting
Fasteners
Included
Mounting
Hole


Dia.

Each
Each

Rectangular

120V

AC,

Single

Phase,

50Hz/60Hz—

Three Prong Plug

8

7/8

"
10

1/8

"
4

13/16

"
8

7/8

"
8

7/8

"
390
66
1,600
1.1
Aluminum
Zinc-Plated Steel
No
0.22"
0000000
0000000
00000000
000000