Measured in decibels (dB), volume ratings indicate how much noise equipment makes. Some common volume levels include a whisper @ 20 dB, a refrigerator @ 40 dB, a conversation @ 60 dB, and a light machine shop @ 90 dB. OSHA recommends hearing protection for exposure to 80 dB and greater.
Also known as muffin fans, these keep heat-sensitive equipment such as electronic components cool. All have UL recognized components and are CSA certified.
Ball bearings reduce heat generated during operation, which extends the life of the fan.
For technical drawings and 3-D models, click on a part number.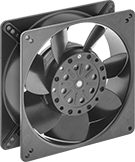 Ht.

Wd.

Dp.

Airflow,


cfm

Temp.




Range,




°F

Volume,


dBA

Current,


A
Frame
Material
Blade
Material
Bearing
Type
Mounting
Fasteners
Included
Mounting
Hole


Dia.

Each

120V

AC,

Single

Phase,

50Hz/60Hz—

Screw Terminals

8.86" (225 mm)
8.86" (225 mm)
3.15" (80 mm)
520
-10° to 140°
61
0.70
Aluminum
Steel
Ball
No
0.181" (4.6 mm)
0000000
0000000

230V

AC,

Single

Phase,

50Hz/60Hz—

Screw Terminals

8.86" (225 mm)
8.86" (225 mm)
3.15" (80 mm)
265
-10° to 155°
40
0.13
Aluminum
Steel
Ball
No
0.177" (4.5 mm)
00000000
000000
8.86" (225 mm)
8.86" (225 mm)
3.15" (80 mm)
517
-10° to 130°
61
0.28
Aluminum
Steel
Ball
No
0.181" (4.6 mm)
0000000
000000