Measured in decibels (dB), volume ratings indicate how much noise equipment makes. Some common volume levels include a whisper @ 20 dB, a refrigerator @ 40 dB, a conversation @ 60 dB, and a light machine shop @ 90 dB. OSHA recommends hearing protection for exposure to 80 dB and greater.
Wet-Location

Enclosure-Cooling

Fans
Able to withstand dust and water splashes, these fans are IP54 rated. They protect equipment in enclosures and cabinets from heat. All of these fans are reversible to exhaust hot air out or draw cooler outside air in through a filter that removes dirt and dust. They have UL recognized components.
Optional hoods block dirt and falling liquids from entering enclosures through the fan cutout. Choose the hood that matches the NEMA rating of your enclosure. NEMA 3R hoods protect from light splashing. NEMA 4 hoods protect from jets of liquid, such as washdowns. NEMA 4X hoods protect from jets of liquid and corrosion. Their silicone gasket is FDA compliant for direct contact with food, so they're commonly used in food and beverage plants.
Replacement filters are sold separately.
For technical drawings and 3-D models, click on a part number.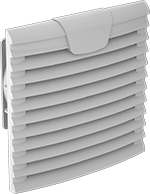 Replacement
Disposable Filters

Ht.

Wd.

Dp.

Ht.

Wd.

Airflow,


cfm

Volume,


dB
Motor


Speed,


rpm

Current,


A
Blade
Material
Guard
Material
Environmental
Rating
Each

Pkg.




Qty.

Pkg.

Square 24V

DC,

Single

Phase—

Terminal Block

8"
8"
3

9/16

"
7"
7"
62
46
Not Rated
0.2
Plastic
Plastic
IP54,

NEMA 12

000000000
0000000
5
00000000
000000

Square 120V

AC,

Single

Phase,

50Hz/60Hz—

Terminal Block

8"
8"
3

9/16

"
7"
7"
71
49
3,100
0.2
Plastic
Plastic
IP54,

NEMA 12

0000000
000000
5
00000000
00000

Square 230V

AC,

Single

Phase,

50Hz/60Hz—

Terminal Block

8"
8"
3

9/16

"
7"
7"
71
46
Not Rated
0.1
Plastic
Plastic
IP54,

NEMA 12

000000000
000000
5
00000000
00000
Environmental


Rating

Ht.

Wd.

Dp.

Ht.

Wd.

Fasteners
Included
Number
of

Dia.

Specifications


Met

Each

Steel

For 8" Fan Overall Ht.
NEMA 12,

NEMA 4

13"
9

3/16

"
2

3/16

"
7"
7"
Yes
4
0.177"
CSA Certified,
00000000
0000000
For 8" Fan Overall Ht.
NEMA 3R

13

1/8

"
10

7/8

"
3"
8

15/16

"
9

1/16

"
Yes
9
0.295"
__
00000000
000000

Stainless Steel

For 8" Fan Overall Ht.
NEMA 12,

NEMA 4X

13"
9

3/16

"
2

3/16

"
7"
7"
Yes
4
0.177"
CSA Certified,
00000000
000000