Quick-Lock

Threaded

Through-Hole

Knobs


Four Arm Grip

Five Arm Grip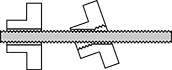 Quick to install, position, and remove, these knobs have an angled hole that allows you to tilt the knob to slide it over threads, then straighten it to grip the threads and secure the knob. They provide a firm grip to position, tighten, and hold fixtures, equipment, and machinery.
Steel knobs are stronger than phenolic knobs.
Phenolic knobs are a lightweight alternative to steel knobs. They resist oil, grease, solvents, and scratches.
For technical drawings and 3-D models, click on a part number.
Size

Dp.

Dia.

Ht.

Dia.

Ht.

Threading
Temperature


Range,

°F

1-9

10-Up

Four Arm Grip

Steel

1/4

"-20

5/8

"
1

1/8

"

5/16

"

9/16

"

5/16

"
Fully Threaded
__
0000000
00000
00000

5/16

"-18

7/8

"
1

1/2

"

3/8

"

11/16

"

1/2

"
Fully Threaded
__
0000000
0000
0000

3/8

"-16

1"
2"

1/2

"

13/16

"

1/2

"
Fully Threaded
__
0000000
0000
0000

1/2

"-13

1

1/8

"
2

1/2

"

9/16

"
1"

9/16

"
Fully Threaded
__
0000000
00000
0000

5/8

"-11

1

1/4

"
3"

5/8

"
1

1/4

"

5/8

"
Fully Threaded
__
0000000
00000
00000

3/4

"-10

1

1/4

"
3"

5/8

"
1

1/4

"

5/8

"
Fully Threaded
__
0000000
00000
00000

Black Phenolic Plastic

1/4

"-20

1

1/8

"
3"

9/16

"
1"

9/16

"
Fully Threaded
-30° to 400°
0000000
0000
0000

3/8

"-16

1

1/8

"
3"

9/16

"
1"

9/16

"
Fully Threaded
-30° to 400°
0000000
0000
0000

Five Arm Grip

Black Phenolic Plastic

1/2

"-13

7/8

"
1

11/16

"

5/8

"
1

3/16

"

1/4

"
Fully Threaded
-30° to 400°
0000000
0000
0000