External and Internal Spiral Retaining Ring Assortments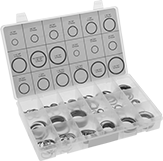 Wind these retaining rings into a groove—no tools required for installation. Rings make 360° of contact with the shaft, so there is no gap.
Oil-coated steel rings are corrosion resistant in dry environments.
Number
of Pieces
Includes
Container
Type
Each

Inch

216
108 External Retaining Rings (For

1/2

" to 1

1/2

" OD)
108 Internal Retaining Rings (For

1/2

" to 1

1/2

" ID)
Plastic Box
000000000
0000000
Speared Ends External Retaining Rings

Often used with small engines, heavy equipment, and power transmission, these external retaining rings have speared ends to help you install and remove them. They're constant-section style, which means the distance between their inside and outside diameter is consistent, so the clearance around their circumference doesn't change either. All are made of spring steel for good strength and reliability. To resist corrosion in dry environments, they're oil coated.
For technical drawings and 3-D models, click on a part number.
For OD
Diameter
Width
ID
Thickness
Minimum
Hardness
Thrust Load


Capacity,

lbs.

Magnetic
Properties

Pkg.




Qty.

Pkg.

Oil-Coated

1060-1090

Spring Steel

5/16

"
0.29"
0.028"
0.281"
0.025"
Rockwell C42
180
Magnetic
10
000000000
00000

3/8

"
0.351"
0.028"
0.341"
0.025"
Rockwell C42
230
Magnetic
10
000000000
0000

7/16

"
0.412"
0.028"
0.402"
0.025"
Rockwell C42
300
Magnetic
10
000000000
0000

1/2

"
0.474"
0.039"
0.464"
0.035"
Rockwell C42
460
Magnetic
10
000000000
0000

5/8

"
0.597"
0.039"
0.586"
0.035"
Rockwell C42
520
Magnetic
10
000000000
0000

3/4

"
0.716"
0.046"
0.703"
0.042"
Rockwell C42
820
Magnetic
10
000000000
0000

7/8

"
0.835"
0.046"
0.82"
0.042"
Rockwell C42
1,110
Magnetic
10
000000000
0000
1"
0.956"
0.046"
0.941"
0.042"
Rockwell C42
1,200
Magnetic
10
000000000
0000
1

1/8

"
1.075"
0.056"
1.06"
0.05"
Rockwell C42
1,880
Magnetic
10
000000000
0000
1

1/4

"
1.194"
0.056"
1.179"
0.05"
Rockwell C42
2,090
Magnetic
10
000000000
0000
1

3/8

"
1.309"
0.056"
1.291"
0.05"
Rockwell C42
2,300
Magnetic
10
000000000
0000
1

1/2

"
1.43"
0.056"
1.408"
0.05"
Rockwell C42
2,500
Magnetic
10
000000000
0000
1

5/8

"
1.551"
0.068"
1.527"
0.062"
Rockwell C42
3,190
Magnetic
10
000000000
0000
1

3/4

"
1.67"
0.068"
1.64"
0.062"
Rockwell C42
3,510
Magnetic
5
000000000
0000
1

7/8

"
1.789"
0.068"
1.759"
0.062"
Rockwell C42
3,760
Magnetic
5
000000000
0000
2"
1.91"
0.068"
1.88"
0.062"
Rockwell C42
4,010
Magnetic
5
000000000
0000
2

1/8

"
2.027"
0.086"
1.997"
0.078"
Rockwell C42
5,470
Magnetic
5
000000000
0000
2

1/4

"
2.146"
0.086"
2.116"
0.078"
Rockwell C42
5,790
Magnetic
5
000000000
0000
2

3/8

"
2.265"
0.086"
2.235"
0.078"
Rockwell C42
6,400
Magnetic
5
000000000
00000
2

1/2

"
2.386"
0.086"
2.356"
0.078"
Rockwell C42
6,600
Magnetic
5
000000000
00000
2

5/8

"
2.505"
0.086"
2.475"
0.078"
Rockwell C42
6,800
Magnetic
5
000000000
00000
2

3/4

"
2.624"
0.103"
2.594"
0.093"
Rockwell C42
8,460
Magnetic
5
000000000
00000
2

7/8

"
2.743"
0.103"
2.713"
0.093"
Rockwell C42
8,840
Magnetic
5
000000000
00000
3"
2.86"
0.103"
2.83"
0.093"
Rockwell C42
9,230
Magnetic
5
000000000
00000
For

OD,


mm

Diameter,


mm

Width,


mm

ID,


mm

Thickness,


mm
Minimum
Hardness
Thrust Load


Capacity,

lbs.

Magnetic
Properties

Pkg.




Qty.

Pkg.

Oil-Coated

1060-1090

Spring Steel

12
11.1
1.17
10.69
1.07
Rockwell C42
250
Magnetic
10
000000000
00000
15
14
1.35
13.67
1.19
Rockwell C42
440
Magnetic
10
000000000
0000
17
16
1.35
15.65
1.19
Rockwell C42
520
Magnetic
10
000000000
0000
20
18.6
1.73
18.03
1.57
Rockwell C42
820
Magnetic
10
000000000
0000
25
23.5
1.73
23.11
1.57
Rockwell C42
1,440
Magnetic
10
000000000
0000
30
28.2
2.16
27.76
1.91
Rockwell C42
1,880
Magnetic
10
000000000
0000
35
32.7
2.74
32.13
2.36
Rockwell C42
2,250
Magnetic
10
000000000
00000
40
37.2
2.74
36.88
2.36
Rockwell C42
2,710
Magnetic
10
000000000
00000
45
41.9
2.74
41.28
2.36
Rockwell C42
3,550
Magnetic
10
000000000
00000
50
46.8
2.74
46.23
2.36
Rockwell C42
3,880
Magnetic
5
000000000
0000
55
51.2
3.05
50.67
2.77
Rockwell C42
6,000
Magnetic
5
000000000
00000
60
56.2
3.05
55.55
2.77
Rockwell C42
6,300
Magnetic
5
000000000
00000
70
65.7
3.53
64.92
3.18
Rockwell C42
8,460
Magnetic
1
000000000
0000
75
70.7
3.53
69.85
3.18
Rockwell C42
9,030
Magnetic
1
000000000
0000
85
80.7
3.53
79.73
3.18
Rockwell C42
10,180
Magnetic
1
000000000
0000
90
84.9
3.53
84.02
3.18
Rockwell C42
11,980
Magnetic
1
000000000
00000
105
99.9
4.42
98.76
3.96
Rockwell C42
14,110
Magnetic
1
000000000
00000
110
104.9
4.42
103.63
3.96
Rockwell C42
15,000
Magnetic
1
000000000
00000