Made-to-Order

Unthreaded Spacers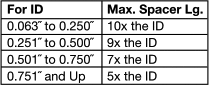 Reference Table
1:
Maximum Lengths by ID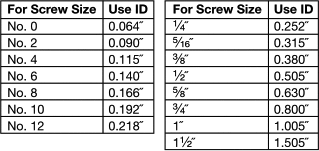 Reference Table
2:
IDs for Common Screw Sizes
How to Order:
1. Choose material.
2. Find the needed OD and length combination.
3. Specify OD, length, and ID in .001" increments. Long lengths may not be possible at small IDs. See Reference Table 1: Maximum Lengths by ID.
For technical drawings and 3-D models, click on a part number.
Choose an OD
Choose a

Lg.

Min.

Max.

1-4

5-9

10-Up

0.125" to 0.250"
0.125" to 2.000"
0.063"
ID must be at least 0.050" less than OD
000000000
000000
000000
000000
0.251" to 0.500"
0.125" to 4.000"
0.125"
ID must be at least 0.060" less than OD
000000000
00000
00000
00000
0.501" to 1.000"
0.125" to 5.000"
0.188"
ID must be at least 0.120" less than OD
000000000
00000
00000
00000
1.001" to 1.500"
0.125" to 3.000"
0.250"
ID must be at least 0.160" less than OD
000000000
00000
00000
00000
1.001" to 1.500"
3.001" to 6.000"
0.250"
ID must be at least 0.160" less than OD
000000000
000000
00000
00000
1.501" to 2.000"
0.125" to 3.000"
0.375"
ID must be at least 0.250" less than OD
000000000
000000
00000
00000
1.501" to 2.000"
3.001" to 6.000"
0.375"
ID must be at least 0.250" less than OD
000000000
000000
000000
00000
2.001" to 3.000"
0.125" to 3.000"
0.625"
ID must be at least 0.375" less than OD
000000000
000000
000000
000000
2.001" to 3.000"
3.001" to 6.000"
0.625"
ID must be at least 0.375" less than OD
000000000
000000
000000
000000

12L14 Steel

0.125" to 0.250"
0.125" to 2.000"
0.063"
ID must be at least 0.050" less than OD
000000000
00000
00000
00000
0.251" to 0.500"
0.125" to 4.000"
0.125"
ID must be at least 0.060" less than OD
000000000
00000
00000
00000
0.501" to 1.000"
0.125" to 5.000"
0.188"
ID must be at least 0.120" less than OD
000000000
00000
00000
00000
1.001" to 1.500"
0.125" to 3.000"
0.250"
ID must be at least 0.160" less than OD
000000000
00000
00000
00000
1.001" to 1.500"
3.001" to 6.000"
0.250"
ID must be at least 0.160" less than OD
000000000
000000
00000
00000
1.501" to 2.000"
0.125" to 3.000"
0.375"
ID must be at least 0.250" less than OD
000000000
000000
00000
00000
1.501" to 2.000"
3.001" to 6.000"
0.375"
ID must be at least 0.250" less than OD
000000000
000000
000000
00000
2.001" to 3.000"
0.125" to 3.000"
0.625"
ID must be at least 0.375" less than OD
000000000
000000
000000
000000
2.001" to 3.000"
3.001" to 6.000"
0.625"
ID must be at least 0.375" less than OD
000000000
000000
000000
000000

6061 Aluminum

0.125" to 0.250"
0.125" to 2.000"
0.063"
ID must be at least 0.050" less than OD
000000000
00000
00000
00000
0.251" to 0.500"
0.125" to 4.000"
0.125"
ID must be at least 0.060" less than OD
000000000
00000
00000
00000
0.501" to 1.000"
0.125" to 5.000"
0.188"
ID must be at least 0.120" less than OD
000000000
00000
00000
00000
1.001" to 1.500"
0.125" to 3.000"
0.250"
ID must be at least 0.160" less than OD
000000000
00000
00000
00000
1.001" to 1.500"
3.001" to 6.000"
0.250"
ID must be at least 0.160" less than OD
000000000
000000
00000
00000
1.501" to 2.000"
0.125" to 3.000"
0.375"
ID must be at least 0.250" less than OD
000000000
000000
00000
00000
1.501" to 2.000"
3.001" to 6.000"
0.375"
ID must be at least 0.250" less than OD
000000000
000000
000000
00000
2.001" to 3.000"
0.125" to 3.000"
0.625"
ID must be at least 0.375" less than OD
000000000
000000
000000
000000
2.001" to 3.000"
3.001" to 6.000"
0.625"
ID must be at least 0.375" less than OD
000000000
000000
000000
000000

Brass

0.125" to 0.250"
0.125" to 2.000"
0.063"
ID must be at least 0.050" less than OD
000000000
00000
00000
00000
0.251" to 0.500"
0.125" to 4.000"
0.125"
ID must be at least 0.060" less than OD
000000000
00000
00000
00000
0.501" to 1.000"
0.125" to 5.000"
0.188"
ID must be at least 0.120" less than OD
000000000
00000
00000
00000
1.001" to 1.500"
0.125" to 3.000"
0.250"
ID must be at least 0.160" less than OD
000000000
00000
00000
00000
1.001" to 1.500"
3.001" to 6.000"
0.250"
ID must be at least 0.160" less than OD
000000000
000000
00000
00000
1.501" to 2.000"
0.125" to 3.000"
0.375"
ID must be at least 0.250" less than OD
000000000
000000
00000
00000
1.501" to 2.000"
3.001" to 6.000"
0.375"
ID must be at least 0.250" less than OD
000000000
000000
000000
00000
2.001" to 3.000"
0.125" to 3.000"
0.625"
ID must be at least 0.375" less than OD
000000000
000000
000000
000000
2.001" to 3.000"
3.001" to 6.000"
0.625"
ID must be at least 0.375" less than OD
000000000
000000
000000
000000