On/Off

Valves with Sanitary

Quick-Clamp

Fittings for Food and Beverage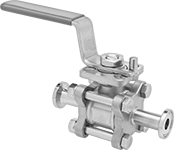 Assembled View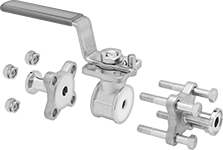 Exploded View
For Use

With:

Food,

Beverage
Valve

Type:

Ball
Specifications

Met:

FDA Compliant 21 CFR

177.

1550
To maintain sanitary standards in food, beverage, and dairy systems that require frequent cleaning, these valves are made of FDA compliant materials. Electropolished to a 32 Ra finish, they have smooth internal surfaces that prevent product buildup and inhibit bacteria growth. All have sanitary quick-clamp fittings for easy disassembly. They also have a three-piece bolted body that comes apart for cleaning and inline access to internal components. Body is 316 stainless steel for excellent corrosion resistance. Valves have a lockable lever that can be fixed in place using a padlock (not included). They are full port, so they do not restrict flow.
Choose the seal material that suits your application. PTFE resists a broad range of food-processing chemicals, organic food acids, and fats and oils. Glass-filled PTFE won't expand when exposed to water and heat, thanks to its glass reinforcement. More durable than unfilled PTFE, it's good for high-stress applications. Polyethylene has a low-friction surface that prevents sticking and binding. This wear-resistant plastic handles scuffs and scrapes, and it won't degrade from food irradiation. It's often used in place of PTFE for applications where fluorocarbons can't be used.
For technical drawings and 3-D models, click on a part number.