Dehumidifying Cabinets
Store and protect 3D printer filaments, optical equipment, and other sensitive material in a humidity-controlled environment. Also known as dry boxes and desiccator cabinets, these cabinets prevent moisture-sensitive 3D printer filaments, such as nylon, ABS, and polycarbonate, from becoming brittle, discolored, or broken. They also keep sensitive electrical and optical equipment, such as microscopes and lenses, free from mold and fungus. Their moisture-absorbing desiccants recharge automatically, so you don't have to remember to charge them yourself or worry about the humidity rising unintentionally.
Standard cabinets are sized to store small equipment, such as flasks and lenses, as well as small filament spools. The desiccants recharge every 20 minutes to keep relative humidity below 30%. Although you cannot set the humidity to a specific level, a humidity meter on the door lets you check the reading.
Designed with 3D printing in mind, cabinets with filament feed ports are large enough to hold up to four 12"-dia. filament spools. They also have four filament feed ports, so you can keep filament dry while still feeding a printer, ensuring the filament doesn't go bad in the middle of a longer job. These cabinets can lower relative humidity to less than 20%; set and monitor the level using the analog display.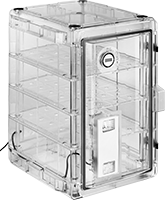 Standard
Ht.

Wd.

Dp.

Cap.,




lbs.

Type


(No. of)

Cap.,




lbs.

Ctr.-to-Ctr.


Adjustments
Relative
Humidity
Desiccant
Material
Material
Plug
Type
Cord


Lg.,




ft.

Each

Assembled

12

1/2

"
13

1/2

"
16

1/2

"
80
Adjustable (2)
40
4"
<30%
Silica Gel
Plastic
Two Prong
8
0000000
0000000
20

1/2

"
13

1/2

"
16

1/2

"
120
Adjustable (3)
40
4"
<30%
Silica Gel
Plastic
Two Prong
8
0000000
00000000
Cabinets with Filament Feed Ports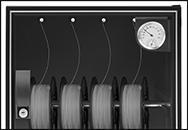 Filament Feed Ports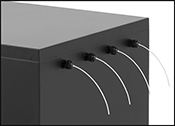 Filament Feed Ports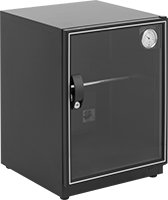 With Filament Feed Ports
Ht.

Wd.

Dp.

Cap.

Type


(No. of)

Cap.

Ctr.-to-Ctr.


Adjustments
Relative
Humidity
Desiccant
Material
For
Filament


Dia.,

mm
Material
Window
Material
Plug
Type
Cord


Lg.,




ft.

Features
Each

Assembled

21

7/8

"
15

3/4

"
16"
Not Rated
Adjustable (1)
Not Rated
1"
<20%
Molecular Sieve
1.75-4.76
Painted Steel
Glass
Two Prong
6
Analog Humidity Control and Display
0000000
0000000
3D Printer

Air Filtering and Conditioning Enclosures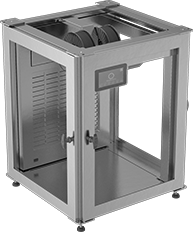 Protect the health of nearby workers and maintain ideal operating conditions for your 3D printer. To keep your workspace's air clean, these enclosures filter harmful fumes, VOCs, and ultrafine particles that are common when working with filaments such as ABS and nylon. The enclosure's door is sealed with silicone rubber to keep fumes inside the enclosure.
Control Your Printing Environment
Because printing conditions that are too cold make weak parts, these enclosures retain the heat created by the printer. The warmth gives the printed layers time to strengthen and bond before cooling. Set the thermal overload protection, and you won't have to worry about the enclosure overheating. If the enclosure gets too warm, a sensor cuts power to the printer to avoid failed prints and dangerous conditions. It's also known as a thermal runaway cutoff.
Manage the enclosure's various settings—filter status, temperature shutoff, fan speed, lights, and WiFi—from the enclosure's touchscreen. The screen also displays the moisture level inside the enclosure. Add a dehumidifier cartridge (sold separately) or other desiccant to keep your filament dry, strong, and flexible. Dehumidifier cartridges have rechargeable desiccant beads. When the desiccant beads change from orange to green, heat them in the microwave to recharge.
Connect To Your Computer
Connect the printer to a computer using the through-wall USB port, and the enclosure stays sealed. The printer connects to the port on one side of the wall, and the computer connects on the other. A similar port connects your printer's power cord. Safely check on the progress of your prints from your computer using the video camera.
Protect Your Printer and Prints
Lightweight and strong, these enclosures have an aluminum frame, honeycomb floor, and clear, impact-resistant windows. A lock on the door prevents unwanted users from accessing your printer and work.
Specifications Met
Made to high domestic and international safety standards, these enclosures meet UL 62368-1 and are CE marked. The filter system meets UL 94 V-0 for flame resistance.
Airflow,


cfm

Ht.

Wd.

Dp.

Ht.

Wd.

Dp.

Filter
Efficiency
Removes Particle
Size Down


To,

microns
Environment


Temp.


Range
Includes
Specifications
Met
For
Removing
Assembled
or
Unassembled
Each

120V

AC/240V

AC—

Three-Prong

Plug

Powder-Coated

Aluminum—

Silicone Rubber Seal

150
37

3/8

"
31

1/2

"
31

7/8

"
31

7/8

"
23

5/8

"
23

5/8

"
99.95%
0.015
16° C to 27° C

60° F to 80° F

Disposable After-Filter, Disposable HEPA Filter, Tool Kit
UL 94 V-0, CE Marked, UL 62368-1
Dust and Particles, Odors and Fumes
Assembled
0000000
000000000
150
37

3/8

"
40

1/8

"
40

1/8

"
31

7/8

"
31

7/8

"
31

7/8

"
99.95%
0.015
16° C to 27° C

60° F to 80° F

Disposable After-Filter, Disposable HEPA Filter, Tool Kit
UL 94 V-0, CE Marked, UL 62368-1
Dust and Particles, Odors and Fumes
Assembled
0000000
00000000