These panel-mount adapters have a female USB connection on both ends to join two USB cables.
Install adapters with a metric mounting thread into a panel cutout with no additional fasteners needed.
Adapters with mounting fasteners included mount to panels of any thickness, as long as you drill a hole first.
Caps (sold separately) protect adapters when not in use. They're tethered, so you can open them in any direction for access from any angle. Caps rated IP67 protect adapters from against washdowns.
Label holders (sold separately) snap onto the front of adapters.
For technical drawings and 3-D models, click on a part number.
USB A Female (Outside Panel) × USB A Female (Inside Panel)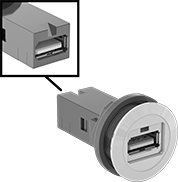 USB A
Outside Panel and USB A Inside Panel
For Panel
Cutout


Dia.

Housing
Material
Color
Size

Pitch,


mm
Mounting
Hole


Dia.

Specifications
Met
Each
Environmental
Rating
Each
Each
Each

With Metric Mounting Thread

0.88"
Plastic
Black
M22

1.5
__
DNV-GL Type Approved
000000
000000
IP65, IP67
000000
00000
000000
00000
000000
00000
0.88"
Plastic
Silver
M22

1.5
__
DNV-GL Type Approved
000000
00000
IP65, IP67
000000
0000
000000
0000
000000
0000
0.88"
Plastic
White
M22

1.5
__
DNV-GL Type Approved
000000
00000
IP65, IP67
000000
0000
000000
0000
000000
0000

With Mounting Fasteners Included

0.945"
Chrome-Plated Plastic
Black
__
__
0.138"
__
0000000
00000
__
0000000
0000
000000
00
000000
00
0.945"
Nickel-Plated Plastic
Silver
__
__
0.138"
__
0000000
00000
__
0000000
0000
000000
00
000000
00

With Metric Mounting Thread

0.88"
Plastic
Black
M22

1.5
__
DNV-GL Type Approved
000000
00000
IP65, IP67
000000
0000
000000
0000
000000
0000
0.88"
Plastic
Silver
M22

1.5
__
DNV-GL Type Approved
000000
00000
IP65, IP67
000000
0000
000000
0000
000000
0000
0.88"
Plastic
White
M22

1.5
__
DNV-GL Type Approved
000000
00000
IP65, IP67
000000
0000
000000
0000
000000
0000
USB A Female (Outside Panel) × USB B Female (Inside Panel)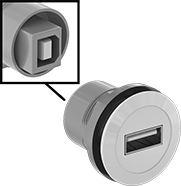 USB A
Outside Panel and USB B Inside Panel
For Panel
Cutout


Dia.

Housing
Material
Color
Size

Pitch,


mm
Mounting
Hole


Dia.

Specifications
Met
Each
Environmental
Rating
Each
Each
Each

With Metric Mounting Thread

0.88"
Plastic
Silver
M22

1.5
__
DNV-GL Type Approved
0000000
000000
IP65, IP67
000000
00000
000000
00000
000000
00000

With Mounting Fasteners Included

0.945"
Nickel-Plated Plastic
Silver
__
__
0.138"
__
0000000
00000
__
0000000
0000
000000
00
000000
00
0.945"
Chrome-Plated Plastic
Black
__
__
0.138"
__
0000000
00000
__
0000000
0000
000000
00
000000
00
USB B Female (Outside Panel) × USB A Female (Inside Panel)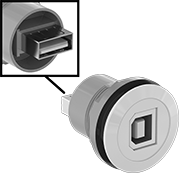 USB B
Outside Panel and USB A Inside Panel