System of Measurement

System of Measurement
Number of Leaves

Number of Leaves
Closed Length

Closed Length
Frame Material

Frame Material
REACH (Registration, Evaluation, Authorization and Restriction of Chemicals)

REACH

(Registration,




Evaluation,

Authorization
and Restriction of

Chemicals)
DFARS (Defense Acquisition Regulations Supplement)

DFARS

(Defense

Acquisition

Regulations

Supplement)
RoHS (Restriction of Hazardous Substances)

RoHS

(Restriction

of
Hazardous

Substances)
Economy Feeler Gauge Sets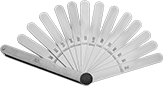 With Flat Round Leaves
To keep the set complete, gauge leaves are riveted together in a fan design that folds up for portability. These sets are used to check gaps, alignment, and narrow slots. Each leaf is marked with thickness.
Stainless steel gauge sets are more corrosion resistant than steel.
Leaf-securing locks hold individual gauge leaves in place.
No.

of
Leaves

Thick.

Lg.

Wd.

Lg.

Wd.

Features
Each

Flat Round Leaves

Stainless Steel

18
0.0015", 0.002", 0.0025", 0.003", 0.0035", 0.004" to 0.01" (0.001" increments), 0.012", 0.015", 0.016", 0.018", 0.02", 0.025"
3"

1/2

"
3

1/4

"

1/2

"
Leaf-Securing Lock
00000000
000000