Starrett Feeler Gauge Sets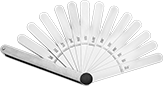 Stainless Steel
Check gaps, alignment, and narrow slots with these feeler gauge sets that include leaves in a variety of thicknesses riveted together in a fan design. Sets fold up for portability. Each leaf is marked with thickness. Leaf-securing locks hold individual gauge leaves in place.
Stainless steel gauge sets are less likely to rust than tool steel.
No.

of
Leaves

Thick.

Lg.

Wd.

Lg.

Wd.

Manufacturer
Model

No.

Each

301 Stainless Steel

31
0.0015", 0.002", 0.0025", 0.003" to 0.026" (0.001" increments), 0.028", 0.03", 0.032", 0.035"
3"

1/2

"
3

7/16

"

1/2

"
66BS
0000000
0000000
Feeler Gauge Rolls

Cut to your desired length. These gauge rolls let you check gaps, alignment, and narrow slots. Thickness is marked every 6 inches.
Steel gauge rolls are polished.
Brass gauge rolls have good corrosion resistance.