About Selecting Wool Felt
Soft Felt Sheets and Strips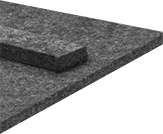 The higher the wool fiber content, the better the vibration absorption and abrasion resistance.
Use F10 and F13 felt for grease and oil retention.
F26 felt is the softest wool felt we offer and is often used for packing and padding applications where the felt will be held between other materials.