Low-Pressure

Clamp-On

Connectors for

Drain,

Waste,

and Vent
Tighten the bands on these connectors to form a strong seal on pipe or fittings.
Socket end-to-socket end connectors allow you to connect two socket-end (female) fittings without using a pipe; the connectors attach over the end of the fitting. Pipe end-to-socket end connectors connect a pipe to a socket-end (female) fitting. Pipe end-to-corrugated pipe connectors connect a rigid plastic pipe to a corrugated polyethylene pipe; a groove in the coupling matches the groove in the corrugated pipe. They are great for storm and drainage systems.
Saddle-tap adapters allow you to tap into an existing pipeline. They have wraparound clamps that provide nearly 360° contact with pipe; as the clamps are tightened, pressure is uniformly distributed around the pipe for maximum support. To install, shut down your line and drill a hole in the pipe where you want to create a connection. Position the saddle over the hole and tighten the clamps.
For technical drawings and 3-D models, click on a part number.
For Use

With:

Air,

Water
Temperature

Range:

-40° to 120° F

Specifications

Met:

ASTM

D5926,

ICC-ES Standards

For Pipe

Material:

Stainless

Steel,

Iron,

Steel,

Aluminum,

PVC

Plastic,

CPVC Plastic
For Pipe
OD
For Pipe
Size

Max.

Pressure
Material
Clamp Material
Flexibility
Each

Pipe End × Pipe End

1.9"
1

1/2

4 psi @ 72° F
PVC Plastic

300 Series Stainless Steel
Flexible
0000000
000000
2

3/8

"
2

4 psi @ 72° F
PVC Plastic

300 Series Stainless Steel
Flexible
0000000
00000
3

1/2

"
3

4 psi @ 72° F
PVC Plastic

300 Series Stainless Steel
Flexible
0000000
00000
4

1/2

"
4

4 psi @ 72° F
PVC Plastic

300 Series Stainless Steel
Flexible
0000000
00000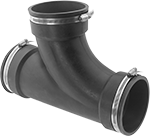 For Use

With:

Air,

Water
Temperature

Range:

-40° to 120° F

Specifications

Met:

ASTM

D5926,

ICC-ES Standards

For Pipe

Material:

Stainless

Steel,

Iron,

Steel,

Aluminum,

PVC

Plastic,

CPVC Plastic
For Pipe
OD
For Pipe
Size

Max.

Pressure
Material
Clamp Material
Flexibility
Each

Pipe End × Pipe End × Pipe End

1.9"
1

1/2

4 psi @ 72° F
PVC Plastic

300 Series Stainless Steel
Flexible
0000000
000000
2

3/8

"
2

4 psi @ 72° F
PVC Plastic

300 Series Stainless Steel
Flexible
0000000
00000
3

1/2

"
3

4 psi @ 72° F
PVC Plastic

300 Series Stainless Steel
Flexible
0000000
00000
4

1/2

"
4

4 psi @ 72° F
PVC Plastic

300 Series Stainless Steel
Flexible
0000000
00000

Pipe End x Socket End

Pipe
End ×
Corrugated Pipe End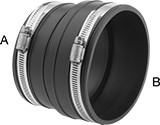 Pipe End x Socket End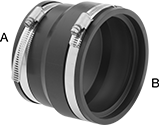 Pipe
End ×
Corrugated Pipe End
For Use

With:

Air,

Water
Temperature

Range:

-40° to 120° F

Specifications

Met:

ASTM D5926

For Pipe

Material:

PVC

Plastic,

Polyethylene Plastic
For
Pipe
OD
For
Pipe
Size

(A)

(B)

Lg.

Max.


Pressure

Max.


Vacuum
Material
Clamp
Material
Flexibility
Each

Pipe End × Socket End

1.9"
1

1/2

1.97"
2.26"
4"
4 psi @ 72° F
Not Rated
PVC Plastic

300 Series Stainless Steel
Flexible
00000000
000000
2

3/8

"
2

2.4"
2.69"
4"
4 psi @ 72° F
Not Rated
PVC Plastic

300 Series Stainless Steel
Flexible
00000000
00000
3

1/2

"
3

3.49"
3.9"
4"
4 psi @ 72° F
Not Rated
PVC Plastic

300 Series Stainless Steel
Flexible
00000000
00000
4

1/2

"
4

4

1/2

"
4.92"
4"
4 psi @ 72° F
Not Rated
PVC Plastic

300 Series Stainless Steel
Flexible
00000000
00000

Pipe End × Corrugated Pipe End

3

1/2

"
3

3.44"
3.57"
4"
4 psi @ 72° F
Not Rated
PVC Plastic

300 Series Stainless Steel
Flexible
00000000
00000
4

1/2

"
4

4.29"
4.76"
4"
4 psi @ 72° F
Not Rated
PVC Plastic

300 Series Stainless Steel
Flexible
00000000
00000
6

5/8

"
6

6

1/2

"
6.83"
6"
4 psi @ 72° F
Not Rated
PVC Plastic

300 Series Stainless Steel
Flexible
00000000
00000
8

5/8

"
8

8.42"
9.76"
6"
4 psi @ 72° F
Not Rated
PVC Plastic

300 Series Stainless Steel
Flexible
00000000
00000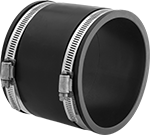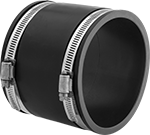 For Use

With:

Air,

Water
Temperature

Range:

-40° to 120° F

Specifications

Met:




Pipe:

ASTM

C1173,

ASTM

D5926,

CSA

Certified,

ICC-ES Standards
Socket-Connect

Pipe:

ASTM D5926

For Pipe

Material:




Pipe:

Stainless

Steel,

Iron,

Steel,

Aluminum,

PVC

Plastic,

CPVC

Plastic,


Socket-Connect

Pipe:

PVC

Plastic,

Polyethylene Plastic
For
Pipe
OD
For
Pipe
Size

Lg.

Max.


Pressure

Max.


Vacuum
Material
Clamp
Material
Flexibility
Each

Pipe End × Pipe End

1.05"

3/4

2

3/8

"
4 psi @ 72° F
Not Rated
PVC Plastic

300 Series Stainless Steel
Flexible
0000000
000000
1.315"
1

2

3/8

"
4 psi @ 72° F
Not Rated
PVC Plastic

300 Series Stainless Steel
Flexible
0000000
00000
1.66"
1

1/4

3

1/2

"
4 psi @ 72° F
Not Rated
PVC Plastic

300 Series Stainless Steel
Flexible
0000000
0000
1.66"
1

1/4

3

1/2

"
4 psi @ 72° F
Not Rated
PVC Plastic

316 Stainless Steel
Flexible
0000000
0000
1.9"
1

1/2

3

7/16

"
4 psi @ 72° F
Not Rated
PVC Plastic

300 Series Stainless Steel
Flexible
0000000
0000
1.9"
1

1/2

3

7/16

"
4 psi @ 72° F
Not Rated
PVC Plastic

316 Stainless Steel
Flexible
0000000
0000
2

3/8

"
2

3

1/2

"
4 psi @ 72° F
Not Rated
PVC Plastic

300 Series Stainless Steel
Flexible
0000000
0000
2

3/8

"
2

3

1/2

"
4 psi @ 72° F
Not Rated
PVC Plastic

316 Stainless Steel
Flexible
0000000
0000
2.88"
2

1/2

3

1/2

"
4 psi @ 72° F
Not Rated
PVC Plastic

300 Series Stainless Steel
Flexible
00000000
00000
2.99"
2

1/2

2

3/4

"
4 psi @ 72° F
Not Rated
PVC Plastic

300 Series Stainless Steel
Flexible
00000000
00000
3

1/2

"
3

4"
4 psi @ 72° F
Not Rated
PVC Plastic

300 Series Stainless Steel
Flexible
0000000
0000
3

1/2

"
3

4"
4 psi @ 72° F
Not Rated
PVC Plastic

316 Stainless Steel
Flexible
0000000
00000
4

1/2

"
4

4"
4 psi @ 72° F
Not Rated
PVC Plastic

300 Series Stainless Steel
Flexible
0000000
00000
4

1/2

"
4

4"
4 psi @ 72° F
Not Rated
PVC Plastic

316 Stainless Steel
Flexible
0000000
00000
5.563"
5

4"
4 psi @ 72° F
Not Rated
PVC Plastic

300 Series Stainless Steel
Flexible
0000000
00000
6

5/8

"
6

5

3/4

"
4 psi @ 72° F
Not Rated
PVC Plastic

300 Series Stainless Steel
Flexible
0000000
00000
6

5/8

"
6

5

3/4

"
4 psi @ 72° F
Not Rated
PVC Plastic

316 Stainless Steel
Flexible
0000000
00000
8

5/8

"
8

6"
4 psi @ 72° F
Not Rated
PVC Plastic

300 Series Stainless Steel
Flexible
0000000
00000
8

5/8

"
8

6"
4 psi @ 72° F
Not Rated
PVC Plastic

316 Stainless Steel
Flexible
0000000
00000
10

3/4

"
10

5

7/8

"
4 psi @ 72° F
Not Rated
PVC Plastic

300 Series Stainless Steel
Flexible
0000000
00000
12

3/4

"
12

6

5/16

"
4 psi @ 72° F
Not Rated
PVC Plastic

300 Series Stainless Steel
Flexible
0000000
00000
12

3/4

"
12

6

5/16

"
4 psi @ 72° F
Not Rated
PVC Plastic

316 Stainless Steel
Flexible
0000000
00000
15"
__
10"
4 psi @ 72° F
Not Rated
PVC Plastic

300 Series Stainless Steel
Flexible
0000000
00000
18"
18
9

7/8

"
4 psi @ 72° F
Not Rated
PVC Plastic

300 Series Stainless Steel
Flexible
0000000
000000
25.1"
24
10"
4 psi @ 72° F
Not Rated
PVC Plastic

300 Series Stainless Steel
Flexible
00000000
000000

Socket End × Socket End

1.9"
1

1/2

4"
4 psi @ 72° F
Not Rated
PVC Plastic

300 Series Stainless Steel
Flexible
00000000
00000
2

3/8

"
2

4"
4 psi @ 72° F
Not Rated
PVC Plastic

300 Series Stainless Steel
Flexible
00000000
00000
3

1/2

"
3

4"
4 psi @ 72° F
Not Rated
PVC Plastic

300 Series Stainless Steel
Flexible
00000000
00000
4

1/2

"
4

4"
4 psi @ 72° F
Not Rated
PVC Plastic

300 Series Stainless Steel
Flexible
00000000
00000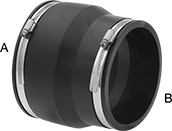 For Use

With:

Air,

Water
Temperature

Range:

-40° to 120° F

Specifications

Met:

ASTM

C1173,

ASTM

D5926,

CSA

Certified,

ICC-ES Standards

For Pipe

Material:

Stainless

Steel,

Iron,

Steel,

Aluminum,

PVC

Plastic,

CPVC Plastic
(A)

(B)

Lg.

Max.

Pressure

Max.


Vacuum
Material
Clamp Material
Flexibility
Each

Pipe End × Pipe End

1

1/2

1

1/4

3

1/2

"
4 psi @ 72° F
Not Rated
PVC Plastic

300 Series Stainless Steel
Flexible
0000000
00000
2

1

1/4

3

1/2

"
4 psi @ 72° F
Not Rated
PVC Plastic

300 Series Stainless Steel
Flexible
0000000
0000
2

1

1/2

3

7/16

"
4 psi @ 72° F
Not Rated
PVC Plastic

300 Series Stainless Steel
Flexible
0000000
0000
2

1/2

1

1/4

3

1/2

"
4 psi @ 72° F
Not Rated
PVC Plastic

300 Series Stainless Steel
Flexible
00000000
00000
2

1/2

2

3

1/2

"
4 psi @ 72° F
Not Rated
PVC Plastic

300 Series Stainless Steel
Flexible
00000000
00000
3

1

1/2

3

7/8

"
4 psi @ 72° F
Not Rated
PVC Plastic

300 Series Stainless Steel
Flexible
0000000
00000
3

2

4"
4 psi @ 72° F
Not Rated
PVC Plastic

300 Series Stainless Steel
Flexible
0000000
0000
3

2

4"
4 psi @ 72° F
Not Rated
PVC Plastic

316 Stainless Steel
Flexible
0000000
00000
3

2

1/2

4

3/16

"
4 psi @ 72° F
Not Rated
PVC Plastic

300 Series Stainless Steel
Flexible
00000000
00000
4

1

1/2

4"
4 psi @ 72° F
Not Rated
PVC Plastic

300 Series Stainless Steel
Flexible
0000000
00000
4

1

1/2

4"
4 psi @ 72° F
Not Rated
PVC Plastic

316 Stainless Steel
Flexible
0000000
00000
4

2

3

7/8

"
4 psi @ 72° F
Not Rated
PVC Plastic

300 Series Stainless Steel
Flexible
0000000
00000
4

2

3

7/8

"
4 psi @ 72° F
Not Rated
PVC Plastic

316 Stainless Steel
Flexible
0000000
00000
4

3

4"
4 psi @ 72° F
Not Rated
PVC Plastic

300 Series Stainless Steel
Flexible
0000000
00000
4

3

4"
4 psi @ 72° F
Not Rated
PVC Plastic

316 Stainless Steel
Flexible
0000000
00000
5

3

3

7/8

"
4 psi @ 72° F
Not Rated
PVC Plastic

300 Series Stainless Steel
Flexible
0000000
00000
5

4

4"
4 psi @ 72° F
Not Rated
PVC Plastic

300 Series Stainless Steel
Flexible
0000000
00000
6

3

5

3/4

"
4 psi @ 72° F
Not Rated
PVC Plastic

300 Series Stainless Steel
Flexible
0000000
00000
6

4

5

3/4

"
4 psi @ 72° F
Not Rated
PVC Plastic

300 Series Stainless Steel
Flexible
0000000
00000
6

4

5

3/4

"
4 psi @ 72° F
Not Rated
PVC Plastic

316 Stainless Steel
Flexible
0000000
00000
6

5

5

3/4

"
4 psi @ 72° F
Not Rated
PVC Plastic

300 Series Stainless Steel
Flexible
0000000
00000
8

4

6"
4 psi @ 72° F
Not Rated
PVC Plastic

300 Series Stainless Steel
Flexible
0000000
00000
8

6

6"
4 psi @ 72° F
Not Rated
PVC Plastic

300 Series Stainless Steel
Flexible
0000000
00000
10

8

6"
4 psi @ 72° F
Not Rated
PVC Plastic

300 Series Stainless Steel
Flexible
0000000
00000
10

8

6"
4 psi @ 72° F
Not Rated
PVC Plastic

316 Stainless Steel
Flexible
0000000
00000
12

10

6

3/8

"
4 psi @ 72° F
Not Rated
PVC Plastic

300 Series Stainless Steel
Flexible
0000000
00000

For Use

With:

Air,

Water
Temperature

Range:

-40° to 120° F

Specifications

Met:

ASTM D5926

For Pipe

Material:

Stainless

Steel,

Iron,

Steel,

Aluminum,

PVC

Plastic,

CPVC Plastic
For Pipe
OD
For Pipe
Size

Max.

Pressure
Material
Clamp Material
Flexibility
Each

Pipe

1.9"
1

1/2

4 psi @ 72° F
PVC Plastic

300 Series Stainless Steel
Flexible
0000000
00000
2

3/8

"
2

4 psi @ 72° F
PVC Plastic

300 Series Stainless Steel
Flexible
0000000
0000
3

1/2

"
3

4 psi @ 72° F
PVC Plastic

300 Series Stainless Steel
Flexible
0000000
0000
4

1/2

"
4

4 psi @ 72° F
PVC Plastic

300 Series Stainless Steel
Flexible
0000000
0000
5.6"
5

4 psi @ 72° F
PVC Plastic

300 Series Stainless Steel
Flexible
00000000
00000
6.6"
6

4 psi @ 72° F
PVC Plastic

300 Series Stainless Steel
Flexible
00000000
00000
8

1/2

"
8

4 psi @ 72° F
PVC Plastic

300 Series Stainless Steel
Flexible
00000000
00000
10.47"
10

4 psi @ 72° F
PVC Plastic

300 Series Stainless Steel
Flexible
00000000
00000
12.7"
12

4 psi @ 72° F
PVC Plastic

300 Series Stainless Steel
Flexible
00000000
000000

For Use

With:

Air,

Water
Temperature

Range:

0° to 110° F

For Pipe

Material:

PVC Plastic

For Use

With:

Air,

Water
Temperature

Range:

0° to 110° F

For Pipe

Material:

PVC Plastic